Which GMC SUV is Right for Ennis Drivers?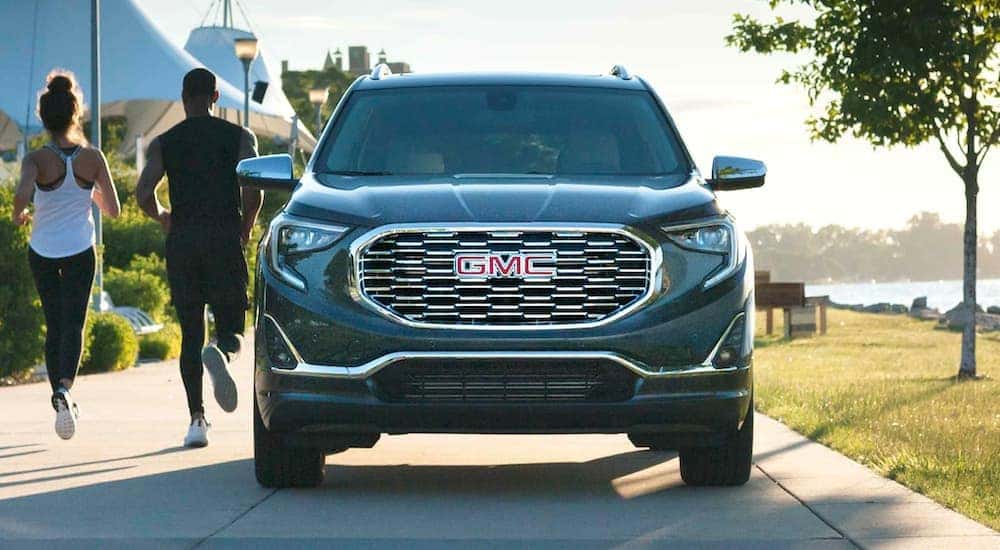 Ennis is a small Texas town that offers residents a sparse suburban feel. Just 25 minutes from downtown Dallas, Ennis is the ideal place to raise a family as it has a small-town feel, but it is close enough to the big city where shopping and entertainment are abundant. The residents of Ennis can enjoy watching plays at the public theater, sip wine at the Sugar Ridge Winery, or shop in the historic downtown. They can even catch a movie or two at the Galaxy Drive-In Theater. But the residents of Ennis can also cut loose and enjoy a day at Bardwell Lake fishing, boating, or just having a picnic. In fact, there are plenty of outdoor adventures to keep Ennis residents busy and on their toes. Residents of Ennis need a practical, efficient, and powerful vehicle to get the most out of their outdoor adventures without breaking the bank. Only GMC SUVs from Frank Kent provide that sort of capability and value.
Pack up, load the family in the SUV, and head out to another great adventure around Ennis, TX. There are plenty of outdoor attractions and trails that need to be conquered, and you will want the right SUV to do so. After all, you aren't going to get to all of the best destinations without having to navigate some rough roads, many of which aren't even paved. Of course, you also want an SUV that won't break the bank; you would probably rather spend your money on camping gear, a boat, and weekend dining outings. When it comes to price, efficiency, and power, there are two GMC SUVs that are perfect for Ennis drivers: the GMC Acadia and the GMC Terrain. Both are excellent choices, let's break down what each has to offer, and you can decide which one suits your needs best.
The GMC Terrain
Looking at the GMC Terrain, you can't help admiring the handsome styling. And while style has nothing to do with how well a vehicle performs, nobody wants to drive around Ennis in a vehicle that isn't visually pleasing. If the Terrain were an outfit, the lower trim levels would be a casual business suit, while upper trim levels would be a luxurious tuxedo. That said, you don't have to dress the part to own a Terrain; you will look classy behind the wheel of one regardless of what you wear. But enough about style; it's what is underneath the crisp and sleek exterior that also matters.
The 2021 GMC Terrain offers your choice of two turbocharged four-cylinder engines, with plenty of performance from the upgraded option, if you need that added power. We think the ideal choice for Ennis residents is the 2.0-liter turbocharged four-cylinder with 252 hp. The larger engine will give you a greater towing capacity and the power and gusto to navigate uneven and otherwise rough terrain. Both engines offer good fuel economy without sacrificing performance.
Although the GMC Terrain is a compact SUV, it still offers a spacious cabin with all of the features and options you expect in a modern vehicle. The well-insulated cabin is comfortable, quiet, and free from obnoxious vibrations and noise. When driving around town or to a weekend destination, you want your ride to be pleasant for yourself and your passengers. The infotainment system is another important factor to consider. Having the latest and greatest features is a must, and the Terrain delivers. The eight-inch infotainment screen is big, bright, and responsive, and thanks to Apple CarPlay and Android Auto, you can make and receive calls and texts by voice without having to look down or take your hands off of the steering wheel. Safety is important.
Storage is also an important consideration when choosing the right SUV. The Terrain provides plenty of storage throughout the cabin, including cubbies on the doors. With the rear seats folded down, there are more than 63 cubic feet of cargo space in the back, which is enough to pack all of your camping gear or shopping bags. Should you decide to take a road trip, the Terrain has enough cargo space to carry all of the family's luggage. The bottom line is that the GMC Terrain offers Ennis residents an SUV that has a well-equipped base model, refined ride, roomy cabin, and good fuel economy. And don't forget that it looks stylish and sleek as well.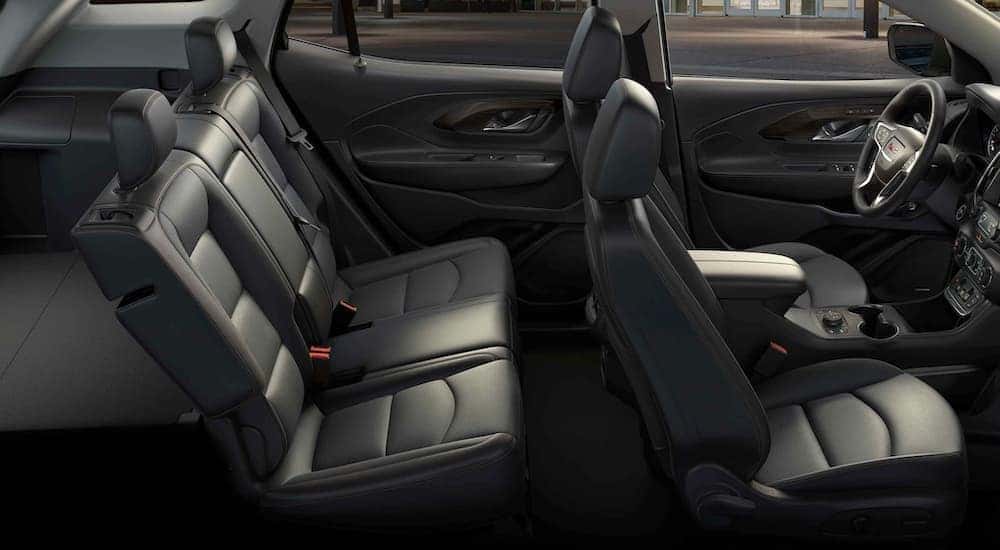 The GMC Acadia
The GMC Acadia is a handsome midsize SUV at a great price, making it a perfect family SUV. The 2021 model offers a standard four-cylinder, a turbocharged four-cylinder, and a powerful V6 option. All three powertrains offer good fuel economy, and the turbocharged four-cylinder and V6 deliver exceptional performance. In addition to excellent performance, the Acadia offers competitive features and options in a roomy and comfortable cab. In many ways, it is the perfect SUV for Ennis residents.
The engineers at GMC have worked diligently to make improvements to the Acadia over the last several years. The latest models are capable of seating up to seven adults, have a sharper look, and have greater off-roading capability. And since the Acadia is a midsize SUV, it has more cargo space than the Terrain – a full 79 cubic feet. Even though it has the chops to conquer rough terrain, it remains a pavement-friendly SUV with a smooth and comfortable ride.
Safety is always a concern, but it is critical if you plan on transporting your family around town or on trips. The National Highway Traffic Safety Administration awarded the 2021 Arcadia with a five-star crash-test rating. Some key safety features include available lane-keeping assist, automated emergency braking, and blind-spot monitoring.
Almost as important as safety features is the infotainment system and connectivity offered by the Acadia. In fact, there are benefits for the entire family. The Acadia features an abundance of USB ports, ensuring that the entire family is plugged in and fully charged at all times. The touchscreen infotainment system is responsive and intuitive, and you will appreciate Apple CarPlay and Android Auto. Lastly, the Arcadia comes with a comprehensive warranty and standard maintenance coverage; this means you can sleep well at night, knowing that GMC has your back if you buy an Arcadia.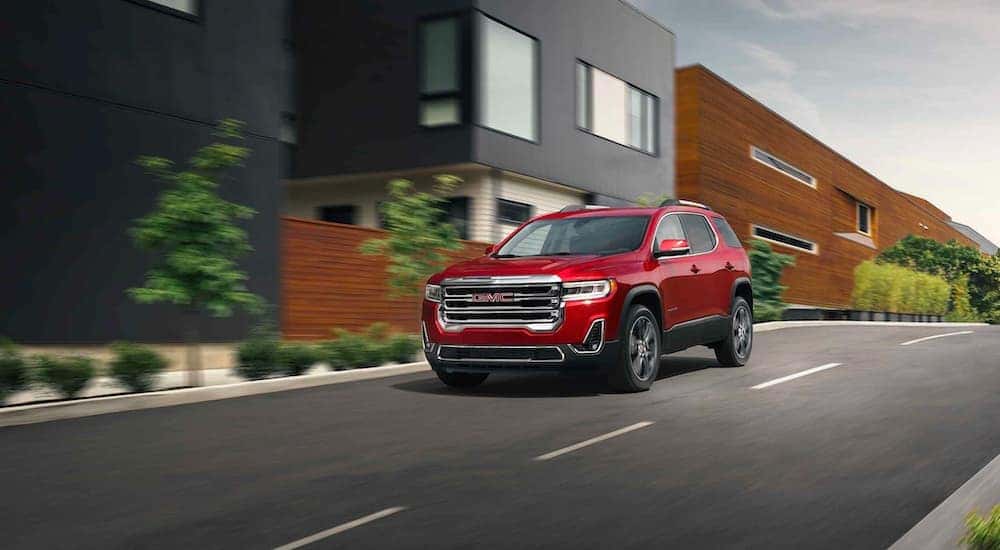 Find Your Perfect SUV at Frank Kent Country
Both the GMC Terrain and GMC Acadia are good choices for the residents of Ennis. Whichever of these fine SUVs has piqued your interest, Frank Kent Country is here to help you get into a new one. At Frank Kent, we believe in giving our customers more choices, which is why we offer one of the largest inventories in the area. We understand the residents of Ennis and their vehicle needs, so we cater to your unique desires. We are as passionate about the customers we serve as we are the vehicles we sell.
Our loyal customers keep coming back because they trust us with their business. If you aren't sure what you are looking for, stop by and let a professional, experienced associate help you find the perfect vehicle that will fit all of your needs. If you already have a newer model vehicle and need routine maintenance or repairs, we can help with that as well. In fact, we can do just about anything in our service department so that there is no need to go anywhere else. So what are you waiting for? Now is a good time to take a short drive to Frank Kent Country; we are eagerly anticipating your arrival.