The Chevy Bolt's History and Bright Future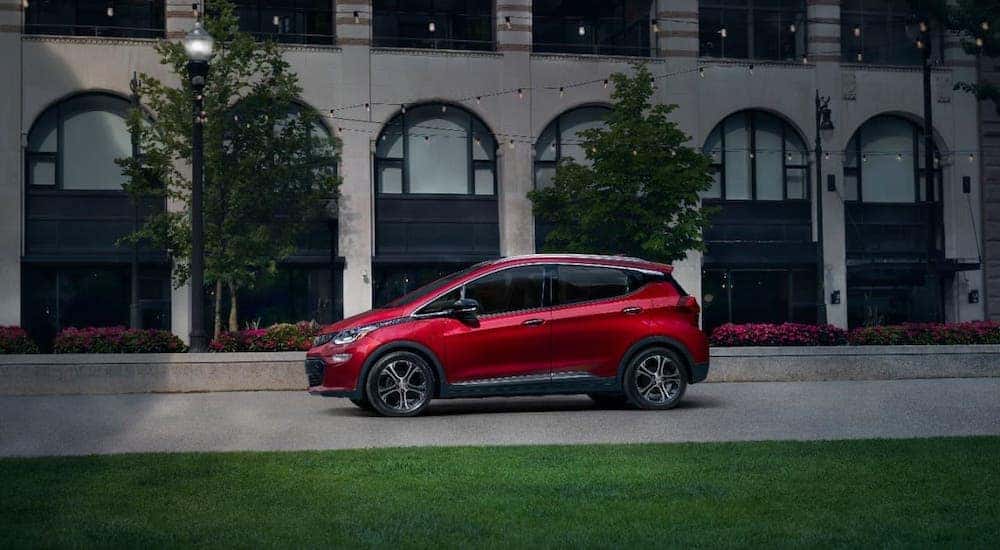 Electric cars come with many benefits, like saving gas money and saving the earth. GM has created some pretty amazing EVs, and the Chevy Bolt EV is at the top of the list. GM EVs are beginning to push the limits of what electric power in cars is capable of with an expansion upon the existing Chevy Bolt technology and even branching out into new vehicles like the upcoming Hummer EV or the upcoming Chevy EUV. EVs are no longer stuck in the past with lackluster style and performance. Instead, they are pushing beyond the boundaries of performance capability to encourage a shift in the market to greener power.
The Chevy Bolt EV was Chevy's first really successful all electric compact sedan. That said, the projected Chevy Bolt EUV is a crossover that is expected to have an even higher driving range than its original form. The Chevy Bolt EUV will undergo upgrades from its EV form, with a better Infotainment system, better seating, and much more. Let's take a look at how the Chevy Bolt EV has evolved since its introduction to the market and what that may mean for the upcoming Bolt EUV.
The 2017 Chevy Bolt
Originally, the 2017 Chevy Bolt had a driving range of 238 miles, a good chunk less than its newest variant. Despite its electric motor, this model can get up to 60 mph in only 6.5 seconds on a full charge. This model comes with several safety features, including a back-up camera, stability control, side, front, rear, knee, and head curtain airbags, and a tire pressure monitoring system. The Bolt also comes with Chevy's StabiliTrak, which is an electronic stability control system that helps prevent sliding during poor weather conditions or emergency situations.
This model is available in eight different colors, including Nightfall Gray, Silver Ice, Mosaic Black, Summit White, Kinetic Blue, Arctic Blue, Orange Burst, and Cajun Red. It includes options for a black grille or dark silver grille, depending on the color and package. Overall, the 2017 Chevy Bolt had a decent start, but the Bolt has definitely undergone improvements since.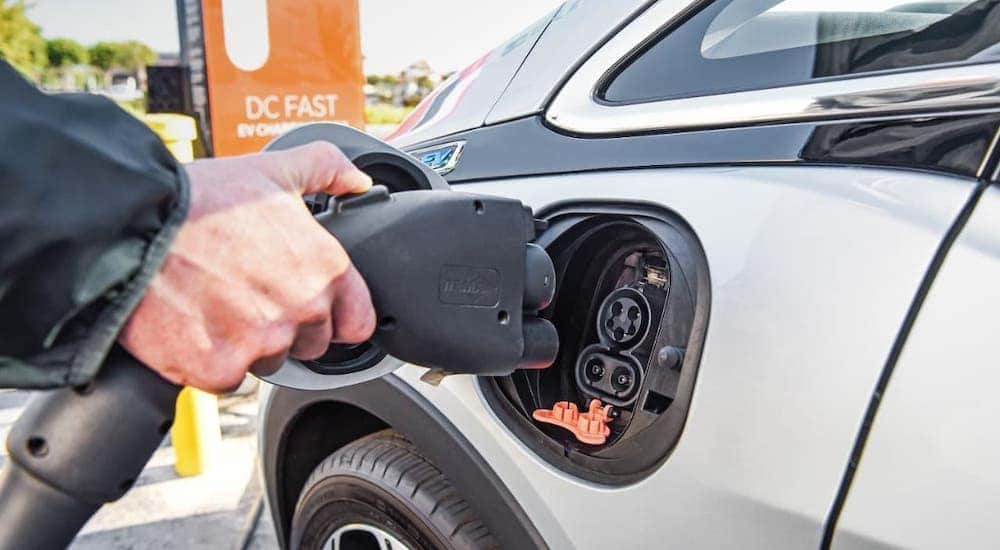 The 2018 Chevy Bolt
The 2018 Chevy Bolt comes in two different trims, the LT and the Premier. Both trims have the same driving range as the 2017 model, but both trims also come with far more safety features than the 2017 model. Both trims share a majority of the same safety features. They both have Teen Driver mode, which allows guardians to set speed and audio limits, as well as curfews for their teen drivers. Additionally, both trims include a rear vision camera, StabiliTrak, Chevrolet Connect Accessibility, and OnStar.
However, the Premier trim also includes rear parking assist, rear cross-traffic alert, surround vision with bird's eye view, and lane change alert with side blind zone alert. These additional driver assist features make it easier to monitor surrounding traffic, pedestrians, and other objects, decreasing accident chances. The 2018 model comes in the same colors as the 2017 model, minus Silver Ice. Overall, while performance is nearly the same, the 2018 Chevy Bolt upgrades its tech and safety features.
2019 Chevy Bolt
Again, the Chevy Bolt keeps the same 238-mile driving range, and it again comes in two different trims, the LT and the Premier. The 2019 model does up the ante in other ways, such as exterior color options. It comes with up to 9 color options, including new Shock and Green Mist shades. Additionally, its entertainment is impressive, with a 10.2-inch infotainment system, Bluetooth streaming audio, a built-in Wi-Fi hotspot, and SiriusXM Radio. It adds a pedestrian safety signal that can alert drivers of pedestrians while traveling at lower speeds, and it also adds a tire fill alert alongside the tire pressure monitoring system. While the 2019 Bolt didn't necessarily improve a lot on the previous model, it added a lot of desirable convenience features and provided a great base for the upcoming upgrades.
The 2020 Chevy Bolt
2020 is when the Chevy Bolt EV performance got a major upgrade. The 2020 Chevy Bolt has an estimated battery range of 259 miles now, keeping the same 200 horsepower, but with a longer driving range. It also adds HD surround vision to the safety suite, along with a forward collision alert, automatic emergency braking, and front pedestrian braking.
The 2020 Bolt also comes in 9 colors, replacing the Green Mist and Shock shades by bringing back Silver Ice Metallic and adding Oasis Blue as an option. This model also comes with two different wheel styles, including 17-inch painted aluminum and 17-inch ultra-bright machined aluminum with painted pockets. It offers 94.4 cubic feet of passenger space and 56.6 cubic feet of cargo volume. All in all, the 2020 Chevy Bolt kicks things up a notch, setting the stage for the 2021 Bolt and the future EUV.
The 2021 Chevy Bolt
We have to be honest here and say that the 2021 Bolt does not change that much from the 2020 model. It still offers the same outstanding driving range of 259-miles, the same color options, and Chevy's amazing suite of safety features. However, the 2021 model offers heated seats in the back and the front, a power outlet, a remote vehicle start and panic alarm, and outside heated mirrors. While this model may not be full of major upgrades, it is still perfecting what is already available when it comes to Chevy's EV technology.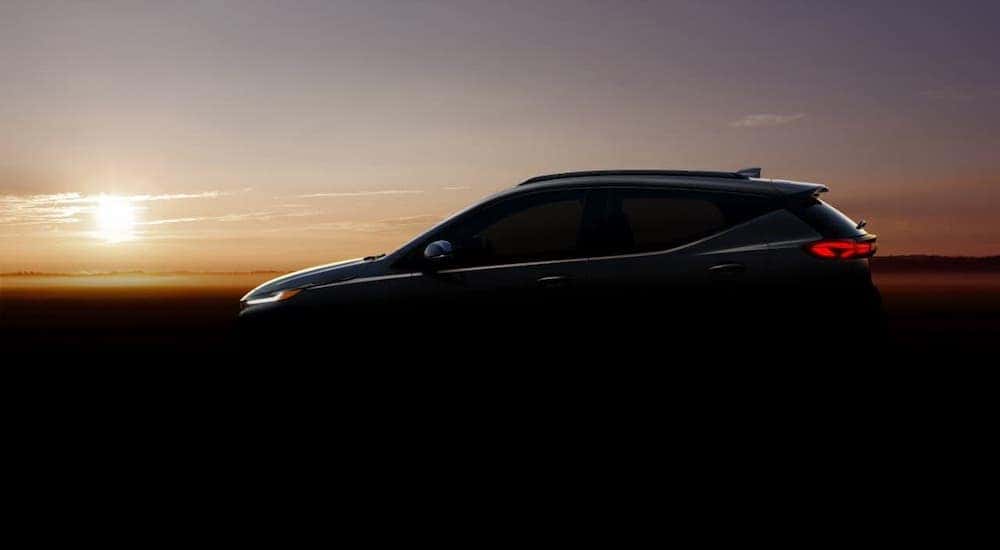 The Upcoming Chevy EUV
While some info on the new EUV is confirmed, most of it is still speculation. So far, it's said to offer more space than the regular Bolt for both passengers and storage. Additionally, the EUV is said to include GM's Super Cruise driver-assist system, which is a hands-free driver assist feature. It sounds too good to be true, but it looks like this advanced driving technology will be a large incentive to buy into Chevy's new electric SUV.
Super Cruise works closely with Adaptive Cruise Control, using sensors, cameras, and GPS data to navigate the EUV. The first step to activating this feature is by activating Adaptive Cruise Control. Then, after monitoring for safety and driver coherence, Super Cruise can be activated by pressing a button on the steering wheel. Keep in mind that you'll still need to keep your hands on the steering wheel at all times, minus when the light bar is green. To safely use this feature, make sure that lane markings are visible and there's nothing covering needed cameras and sensors. Otherwise, you're good to go. GM has made a great decision by choosing to expand its Super Cruise technology to the new EUV, as it makes it extra unique compared to its competitors.
Additionally, Chevrolet has confirmed the 2022 Bolt EUV Power Flow Screen, which allows the driver to monitor their electricity levels and outputs, better monitoring the EUV's overall charge. There's still no word on potential colors or interior designs, minus the confirmed darker interior that shows up on a sneak-peek photo preview. Generally, the new EUV seems to improve upon the Chevy Bolt EV, carrying over its perks and adding new assets and upgrades.
Final Thoughts On The Bolt?
Overall, the Bolt has come far over the past few years. Its driving range is improving, it's offering more safety features with each release, and the new EUV comes with more space and better technology than the regular Chevy Bolt EVs. Additionally, sources suggest that the 2022 Chevy EV will share some of the EUV's upgrades but that the EUV will definitely take the cake when it comes to space. We believe that the future is bright for the coming lineup of GM EVs. If you want to try out a Chevy Bolt now and see what all the EV fuss is about, then visit us at Frank Kent Country in Corsicana.