Texas Off-roading With A Gmc Truck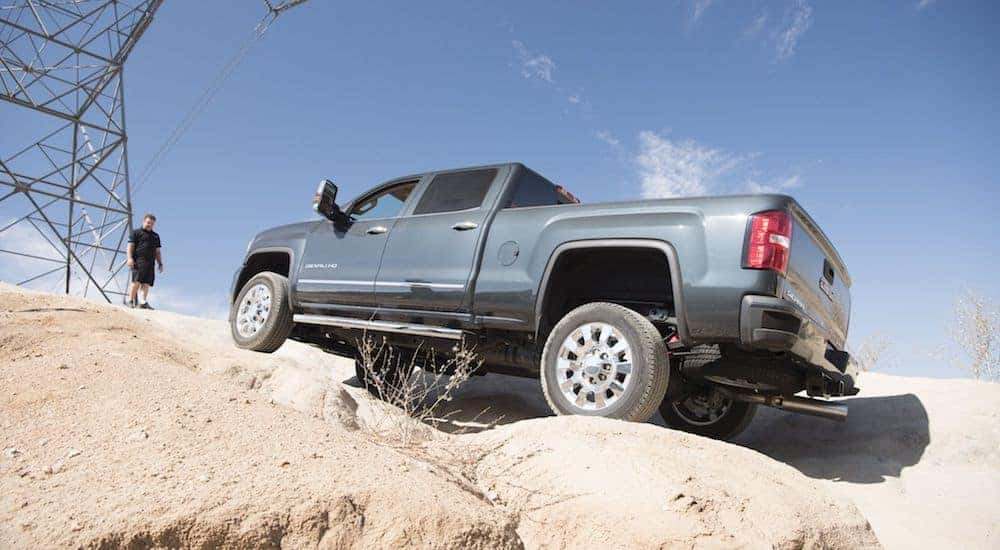 Texas off-roading aficionados are passionate about GMC Trucks. That's because they know that GMC trucks have what it takes to get them where they are going. Whether it's through a rough muddy trail, or up the side of a mountain, GMC trucks are uniquely powerful and provide the safety and reliability missing from other popular 4x4s.
Off-Roading Capabilities
Off-roading has been popular in Texas since the 70's, but back then it wasn't always fun and it definitely wasn't easy. Those bitten by the off-roading bug of tackling the elements used to take great pains in building their own vehicles. This was a fun and exciting undertaking, but not for the faint of heart. Many had to have the skill and ingenuity to know what it takes to build vehicles that had not only great traction, but also large wheels, and the most powerful engines necessary for grinding its way through the rough terrain.
But most of the time, these drivers were forced to make do with crude buggies that were mostly pieced together from old car frames, refurbished engines, and airplane tires. It's no surprise that now, many off-roaders prefer driving 4×4 pickups and were excited for the introduction of these types of vehicles. A shiny new 4×4 pickup was obviously preferable to a crude 70's buggy, but even they are nothing like the kind of machines that GMC is now producing now. Now that 4×4 trucks are extremely popular, GMC trucks lead the way in innovation and performance.
Even before GMC's most recent upgrades and updates to its previous models, they built 4x4s that had everything off-roaders are looking for. They made everything big: the wheels, the engine, and the cabin. Not only was the ride powerful, but it was also efficient. And GMC keeps making these vehicles better with its new pickup releases.
The 2019 GMC Sierra and GMC Sierra AT4
The most recent offering, the 2019 GMC Sierra 1500 Elevation and the "beast mode" GMC Sierra AT4, which were just unveiled. These trucks were built for off-roading work and play and designed to turn heads and catch eyes. These trucks have style and luxury that no patchwork dune buggy could contend with. Any off-roader would be proud to say they own a GMC truck with these specs and performance.
In Texas, the terrain is perfect for off-roading, so it really is no surprise that it's such a popular sport. Texas is unique to other places as it has desert terrain, mountain ranges and much of the wilderness is still untamed. In that situation, you want a vehicle you can rely on. Texas off-roaders should already know that GMC trucks rank highly consistently in both safety and performance. They are more often than not the go-to vehicle for every off-roading trip. Savvy truck buyers also know to look out for the unveiling of the Denali option which always adds more in luxury and style.
The 2019 GMC Lineup
The 2019 GMC vehicles go on sale this fall. You will recognize them immediately by the gorgeous chrome handles and grille, and the monstrous 20-inch alloy wheels that come standard. GMC stands by its new design by insisting that it is entirely unique and not just a copy of previous models and models made by the competition. Especially the Sierra Elevation, which has an X231 Off-Road Package. With this package comes the necessary four-wheel-drive system with a two-speed transfer case. It includes Rancho shock absorbers, a dual exhaust system, and a locking rear differential. GMC knows what off-roading requires, that is why they also included skid plates, hill descent control, and a heavy-duty air filter made especially for excessive driving on dirt roads.
But what about those standard powerful GMC engines? The Elevation offers a 2.7 liter inline-4 engine that is turbocharged, and pairs with an automatic transmission with 8 speeds. And if the adrenaline rush of a V-8 is what you are after, which let's face it, who doesn't want a V-8, it is included as an option and is it paired with a 10-speed automatic transmission.
GMC even goes the extra mile to improve gas mileage and towing. The new 2019 models are made to be more lightweight. The interiors have been upgraded to make those bumpy rides a bit more comfortable. And, imagine having the exciting smooth ride of a GMC 4×4, while also having all of your technology close at hand. You can play your music, use your keyless entry and start or stop your engine with just the push of a button.
Those who love jumping Texas hills should always do so in a GMC truck. Whether they are looking for scenic spots to drive up, exploring trails and rock formations, or love getting muddy while trudging through creeks and waterways, nothing would beat the power and mobility of the Elevation or the AT4. And because GMC is such a reliable brand, any of the Sierra models would stand up to the test.
See What Frank Kent Country Has to Offer Today!
So, if you are near South Dallas, come visit our showroom to see the new GMC model trucks. We are in Corsicana, TX. At Frank Kent Country, we know trucks. We understand what you are looking for in a 4×4 pickup and we know it isn't just a large flatbed. We know you want a vehicle that will stand up to the elements, that is built tough, that can climb large rock formations and still leave you feeling like your GMC truck can go that extra mile and again and again.
We are of the top and most popular car dealers in South Dallas. We want to meet you, so we can tell you even more about the new cars, and maybe have you test drive a few so you can feel the comfort of the interior and the power of the engine. At Kent Country we take pride in our customer service. We want to get to know you personally, and if you are an off-roader, we want to chat you up about that too. So, what are you waiting for, hurry and schedule a test drive with us today!