Silverado Camping Experience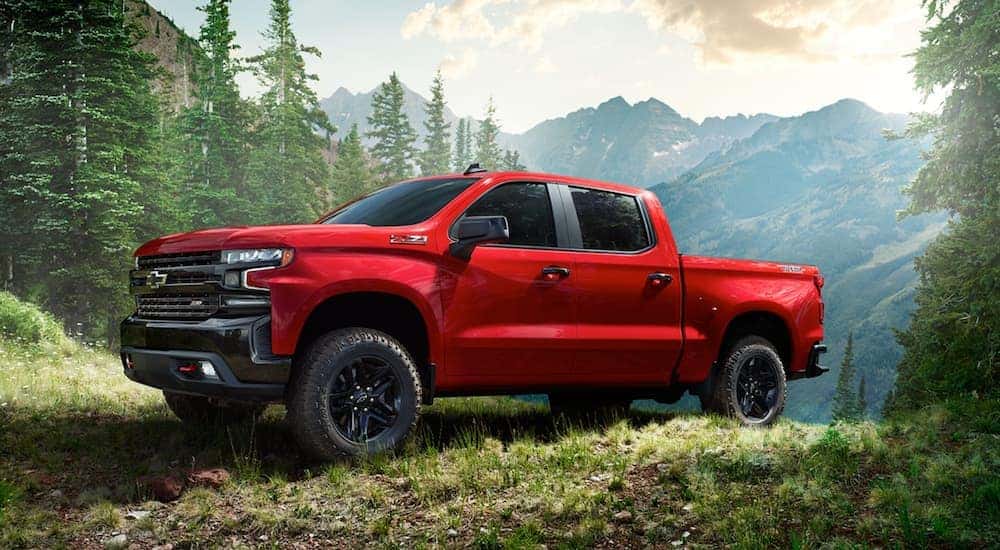 These days, sometimes you just need to get away from the hustle and bustle, and camping is always a great choice. There are few vehicles better equipped for this kind of adventure than the new Chevy Silverado. Replete with standard and optional features that provide power, comfort, convenience on-demand, the Silverado facilitates a great time whether you're bringing along the comforts of home or roughing it like the old days. Found at a Chevy dealership near you, the Silverado can be outfitted for your adventures.
There are dozens of campsites in and around the Ennis area, all of which are great places to take your new Silverado camping, whether that is with a towed trailer or tent. You can even bring along some recreational gear to add even more interest and excitement to your trip. No matter where you decide to escape to, a new Silverado has the features to make getting there and staying there an awesome experience.
Gearing Up
One of the most important parts of a camping trip happens before you even leave. That part is packing and gearing up. Making sure all of your equipment is ready to go, and that it all fits in your truck, ensures that the only surprises you and your companions face out in nature are those of discovery and not of forgetfulness.
Once you have selected all the equipment and supplies for the trip, your new Silverado is ready to offer its voluminous storage space. With a minimum of about 63 cubic feet of cargo area and up to 89 cubic feet of maximum storage in the long bed option, the Silverado makes even an overpacked family's camping gear look trivial. That cargo volume is only added to by surprisingly spacious interior storage, allowing the important items to be stored in heated and air-conditioned comfort.
New on the 2021 Silverado is 15 camera views that make hitching up and driving a trailer a breeze. Other features for cargo hauling include a spray-on bed liner, best-in-class standard cargo volume, optional LED cargo area and perimeter lighting, and available power up/down tailgate. Not to mention the brand new Multi-Flex Tailgate that has six different functions to make using your truck bed easier than ever. Once your Silverado is loaded up for the adventure ahead, it's time to get out on the road and trek out to the campsite.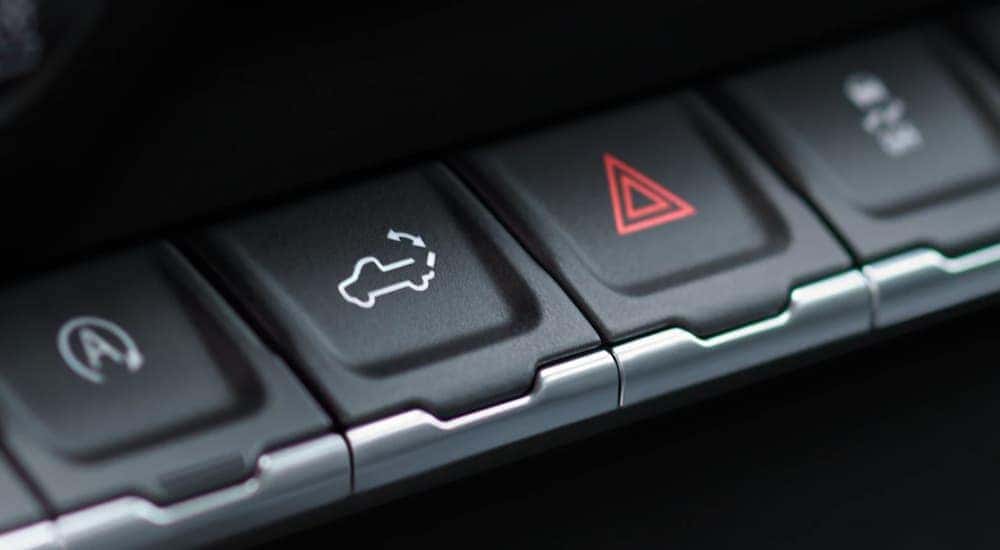 Getting There
For both the long haul on the freeway and the journey over the trail, the Silverado is well equipped to cover the distance. A wide range of engines are available to suit your exact needs, from a surprisingly torquey 2.7-liter turbo four-cylinder to a burly 6.2-liter V8, to a workhorse 3.0-liter turbo diesel, and many more. All of the engine choices are designed to maximize power and efficiency in their specific target application, with all gasoline-fueled engine choices featuring cylinder deactivation. Known as Active Fuel Management, this system can effectively turn off portions of the engine when full power is not required, making highway cruising exceptionally efficient.
Select V8 engines in the range have an even more advanced Dynamic Fuel Management system. This makes 17 cylinder deactivation combinations possible that perfectly suit the exact driving conditions the engine is facing on a moment-to-moment basis. Because of all this advanced technology, you, your passengers, and all your gear can go vast distances with less fuel than ever before.
If you are headed to one of the less-accessible campsites in the surrounding area, the Silverado's selectable drive modes and available Hill Descent Control may come in handy. The Z71 off-road package is available on all models besides the Custom and provides a vast array of terrain-conquering equipment to make getting anywhere not much harder than getting out of the garage. Whether or not your trip to the campsite made use of a factory-installed 2-inch lift on Rancho shocks or required the Z71's signature skidplate to keep you out of trouble, the Silverado has no problem making the expedition out into nature. Now it's time to make camp.
Camp Silverado
A surprising feature available on certain models of the new Silverado, and not shared by any other truck in the industry, is a power tailgate. This tailgate can lower and raise automatically and is capable of remote-locking as well, making unloading a more efficient experience. Also available are modern conveniences such as push-button start, keyless entry, and both heated and vented front seats and steering wheel.
Once camp is set up, the Silverado also provides a litany of features useful to those who aren't interested in roughing it.
These options include 7 and 8-inch variants of the Chevrolet infotainment system, including a variant with a high-definition color touchscreen. These screens facilitate the use of optional navigation and an available rocking seven-speaker audio system with a Richbass subwoofer. Apple CarPlay and Android Auto capability keep the tunes flowing seamlessly, while optional wireless charging and a slew of conveniently-placed data-ready USB ports can keep devices charged well into the night.
After night has fallen, the available built-in 4G LTE wifi hotspot allows those who want to stay connected to the wider world to get their fix even as the rest of the camp beds down. For those who want to completely unplug, a truck bed big enough to lay in and a sky of stars to gaze at is also standard. Enjoy a relaxing trip to the wild with the Silverado as your companion.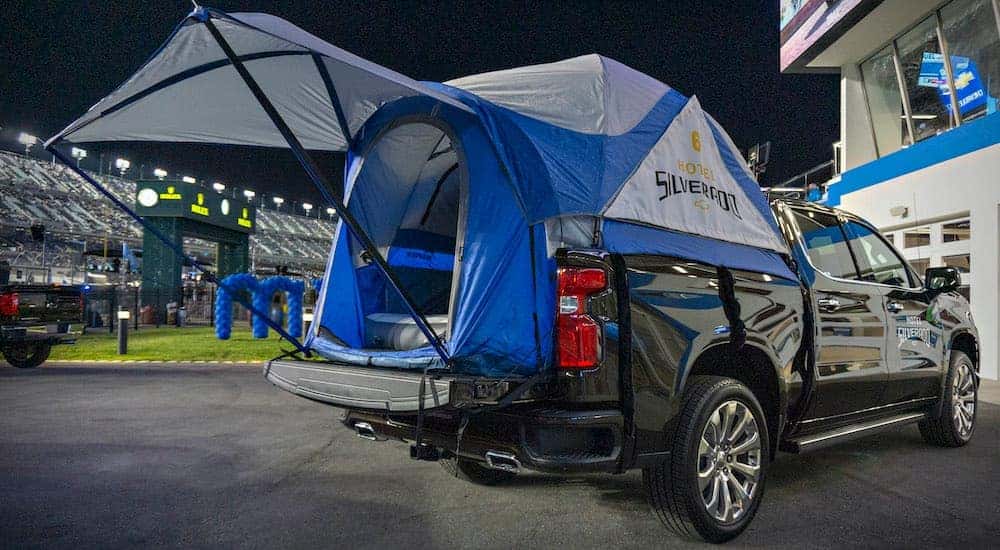 Getting Home
When it is finally time to break camp and return to civilization, the new Silverado allows you to rest assured that no matter the adventures lived through while out in nature, you will be able to return to your soft bed at home safe and sound. Over the trail, this assurance is provided by the advanced StabiliTrak stability control that features rollover mitigation technology. This system allows you to keep your new Silverado firmly on the straight and narrow, even when terrain and conditions would make it exceptionally challenging otherwise. Sensors monitor tire pressure while an optional battery of cameras provides critical views when maneuvering in tight spaces. The available sensor and software packages allow for computer assistance in driving situations that range from mundane tasks to emergencies.
Park Assist makes getting into spaces a snap, despite the size of the larger Silverados. Lane Change, Side Blind Spot, and Rear Cross Traffic Alerts provide the driver with maximum situational awareness at all times, from backing out of a space in a crowded parking lot to cruising in traffic.
Optional adaptive cruise control makes the return leg on the highway go by in a flash, while the six standard airbags and available Automatic Emergency Braking give you supreme peace of mind from the moment you break camp to the moment you return to the garage.
Time for a Silverado Camping Trip
The new Chevrolet Silverado 1500 series of pickup truck models exemplifies what modern dependability looks like, with technology and ruggedness in equal measure. All the numbers are impressive, whether they be payload capacity, the best-in-class V8 horsepower, or the prodigious maximum towing capability of 13,300 pounds. But more important than the numbers, the technology, and even the build quality is the whole that all those parts build.
That whole is the confidence that your truck will be able to gracefully handle anything you need it to, without fuss or drama. The confidence that you have the best tool for the job at hand, regardless of that task's banality or severity. The confidence that doesn't boast but just gets to work on the task at hand. That quiet feeling of confidence is what makes a Silverado a Silverado, and this new truck is the best one yet. Brimming with capability, dependability, and no small amount of comfort, the new Silverado is the right truck for the job.