Shopping For Your GMC SUV With Frank Kent Country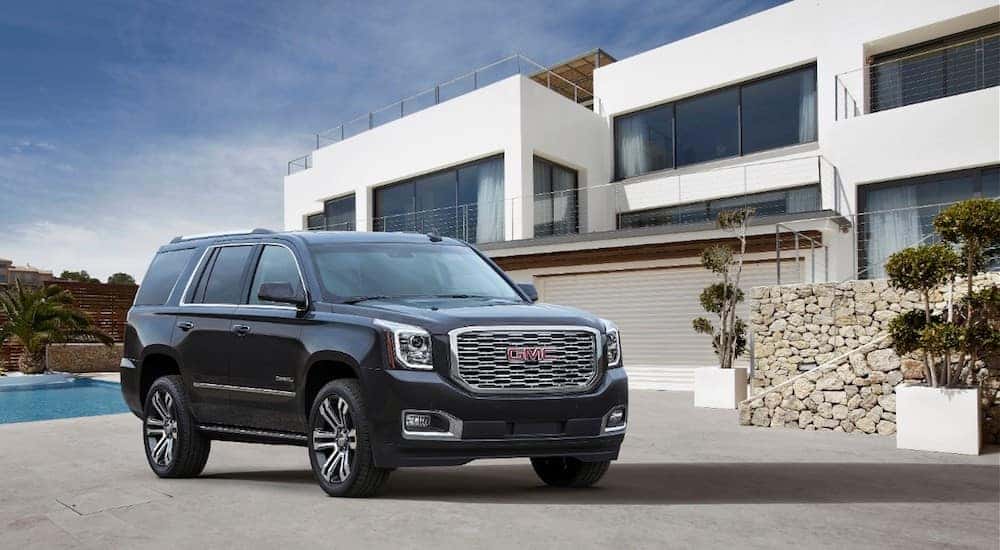 Frank Kent Country is proud to be able to offer the finest selection of GMC SUVs for all those in the market for a passenger-friendly, versatile vehicle. We have a massive selection of GMC SUVs on our multi-acre lot and are pleased to be able to offer high-quality vehicles at a reasonable price to all those who visit. Make a trip to Frank Kent Country to check out what we are able to offer. In addition to quality priced SUVs, our renowned Sales and Finance Team are prepared to meet with you to develop a plan for purchasing a new SUV a reality. In all aspects of the process, we are here to help with useful information, assessment and guidance so that you are able to make the best decision when purchasing your new GMC SUV.
We believe that Customer Satisfaction is vital for every sale that we make so we are not satisfied until you are satisfied. So, here are a few of the most important perks you can expect to experience when shopping with Frank Kent Country for your next vehicle.
Renowned Sales and Finance Team
The members of our Sales Team go through rigorous training to learn everything about the vehicles that we have to offer. That is because we realize that it is important that you have all the up-to-date information on whatever vehicle that you are interested in learning about on our lot. They receive information about all of our new to the lot inventory and are quite knowledgeable about the pros and cons of each vehicle that we have available. Our well-informed member of our Sales Team will sit down with you to find out what you are looking for in an SUV and then will show you the options available that will meet your needs and budget.
Once you have chosen a vehicle, a savvy member of our Finance Team will sit down with you to discuss financing options with you. In addition, they will talk with you about what you are looking for with financing and help you to find a plan that will best fit your lifestyle and budget. There are many options available for financing and we want to make certain that the one chosen is the one that will suit you the best.
Financing Options
We have many financing options available to accommodate every customer who looks to purchase GMC SUVs. Every member of our Finance Team is very knowledgeable and skilled with regards to all of our programs that are available to our customers and will carefully evaluate where you are at in terms of your wants and needs for financing and will find something that either meets or exceeds what is needed.
In addition to the excellent financing that is available through Frank Kent Country, we also offer many programs that would help to enhance the already great protection plan through for your GMC SUV. Just a few of those options that you might want to add on are listed below:
GAP Coverage
Tire and Wheel Protection
Pre-Paid Maintenance
Appearance Guard
All of these protections on top of an already great Warranty program makes available the optimal coverage for each GMC SUV owner because we know that you prize your investment. At Frank Kent Country we know that the decision to purchase, finance, and protect your vehicle is a decision that takes careful planning and consideration. We will be there for you at every phase in the process to ensure that you have the best information and resources available. We want you to have everything you need to make the best decision when purchasing your new or pre-owned GMC SUV. We know that our customers expect the best from our team of qualified members and we are happy to be able to help you with the purchase of your new GMC SUV.
Inventory
At Frank Kent Country, you will find the finest GMC SUV's on the market at competitive prices. That is because we realize that it is what our customers look for when purchasing a GMC SUV. When you make a decision to purchase a GMC SUV you will find all of those qualities in every SUV that we have available from GMC. When looking for an SUV most people are looking for comfort, style, reliability and convenience. Below are a few GMC SUVs that can be found on our lot.
Our 2018 GMC Yukon is a 2wd 4 dr SLT and has a 5.3L EcoTec3 V8 Engine to offer those who would like a bit of power and luxury in your SUV. An all leather interior is an option with this SUV.
The 2018 GMC Terrain comes as an automatic and has a 1.5L Turbo and is a great option for those who would like a sturdy SUV with great traction in all weather. An all leather interior is also an option with this SUV.
Our 2018 GMC Acadia has Front Wheel Drive and is an automatic. It has a 3.6L V6 SlDI DOHC and the Fuel Economy is 17 City/24 Highway. An all leather interior is an option with this SUV as well.
Outstanding Customer Service Team
We are proud of our outstanding Customer Service Team and the many accolades that we receive about them from satisfied customers. That just tells us that we are meeting our expectations for quality and customer satisfaction. Every member of our Customer Service Team must go through tough training and must meet satisfactory benchmarks before they are able to serve our customers effectively at Frank Kent Country. Below are just a couple of comments from satisfied customers.
"Tracy was very helpful and kind. It was the easiest car shopping experience I'v had. Will definitely search for cars there in the future! No need to haggle because the price was what I wanted." Rebecca W.
"Excellent service throughout the entire purchase process! Exceptional deal was just an added bonus to the customer service that the Frank Kent organization provided with my recent purchase. No remorse here! Customer for life!" Tim N.
Visit Frank Kent Country for your next GMC SUV purchase, we will make certain that you are satisfied from the moment you step in the door to when you drive off in your new GMC SUV. You will be very glad that you made the choice to become a member of the Frank Kent Country family. We are pleased to be able to offer many quality GMC SUVs and our Sales Team will provide you with the best up to date information with regards to any SUV on our lot so that you are able to find the one that will best meet your needs, lifestyle and budget. We look forward to meeting you and hope that you will become a satisfied customer for years to come after purchasing your GMC SUV.
"Frank Kent Country has given me the best car buying experience I've ever had followed by their top notch service department! I can't say enough about their staff!! Keep up the good work…" David R.
Another excellent review from one of our valued customers. At Frank Kent Country, we do intend to "Keep up the good work!" So, when it comes time to purchase your next SUV, be sure to visit our lot!