Say Hello to the New Electric GMC Hummer!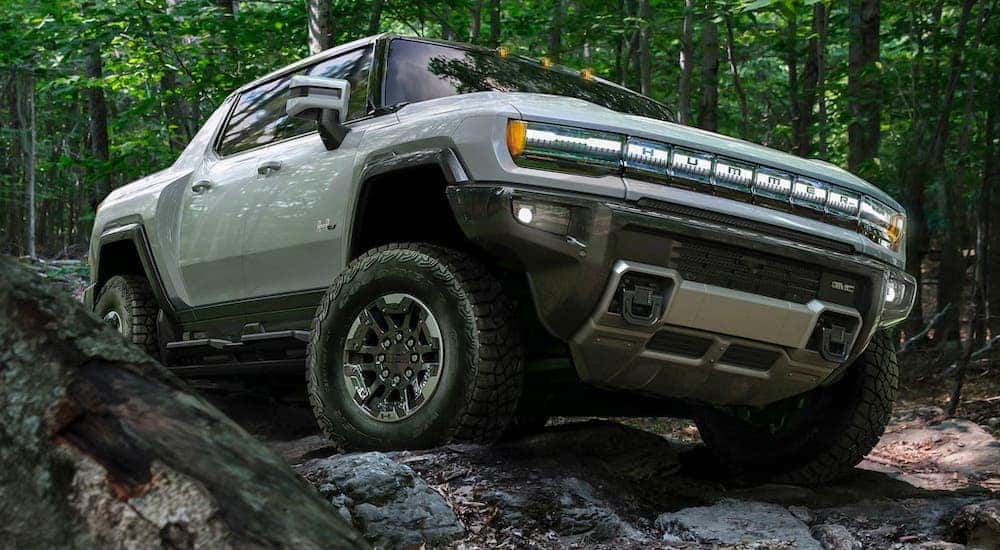 If you have been thinking about purchasing one of the GMC SUVs, we've got some exciting news for you: Heading to your local GMC dealership is the new GMC Hummer SUV, back and better than ever. As the first-ever fully electric Hummer vehicle, this model produces zero emissions and features an open-air design for an experience unlike any other. Our experts here at Frank Kent Country in Corsicana, TX, are here to tell you everything we know so far about this innovative ride.
The Hummer: A Brief History
Inspired by the military M998 Humvee, the first Hummer SUVs became available to civilians in 1992. Even though these models turned heads everywhere they went due to their large stature, most people lost interest in them because of the abysmal fuel economy. Three different versions of the Hummer were created, including the H1, H2, and H3. Although the H2 and H3 were smaller than the H1, the design edits weren't enough to keep drivers intrigued. With the price of gas going higher and higher, the Hummer was retired in 2010.
The 2022 GMC Hummer SUV
After ten years of being off the market, the Hummer is finally making a comeback. However, it will not be anything like the previous models. It will be even better!
The engineers at GMC understand what the main issues were with the first Hummer models. The big cars may have been fun to drive, but it was not good for the environment. The cost of gasoline and greenhouse gas emissions were both too high for the modern American driver to accept—that's why the new GMC Hummer SUV is full electric.
Don't let the fact that this model is an EV fool you. No power has been compromised in the making of the new Hummer. In fact, it is more powerful than ever before. Generating an impressive 1,000 hp and staggering 11,500 lb-ft of torque, this beast can accelerate from zero to 60 mph in just 3 seconds. It's a super SUV that feels somewhat like a truck, and it knows no bounds.
One design element that has caught the attention of Hummer fans is the open-air build. Similar to the famous Jeep Wrangler and the new Ford Bronco, the GMC Hummer SUV has removable roof panels. You can just pop the panel off to open up the vehicle to the outside world. This is a fantastic option for perfect weather days and camping trips. With the ability to bring nature inside, you may find that this model is quite pleasant to drive.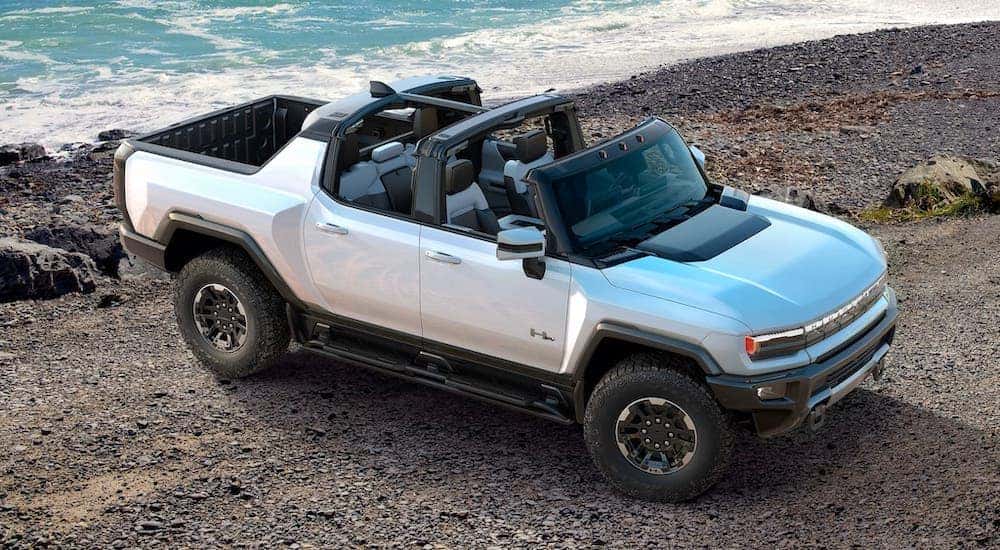 Move Over, Tesla!
The GMC Hummer SUV will feature a sparkling new 200 kWh battery that is even better than the one used at Tesla. As an Ultium battery, it is the first of its kind. Its capacity ranges from 50 kWh to 200 kWh, and Tesla's largest battery is only 100 kWh. The battery is about 18-inches thick and is estimated to provide up to 400 miles of driving range when it's fully charged. GM is planning to install this innovative battery on the Hummer SUV, Hummer SUT, and the new EV Chevy truck.
Now, let's talk about charging. While most electric models from GM charge at a rate of 400 volts and 200 kW, the new Ultium battery will be able to charge at 800 volts and 350 kW. This slices the charging time in half. Another significant aspect of the Ultium battery is that it uses 70% less cobalt than other EV battery packs on the market. As a rare and expensive metal, cobalt has long been used for the production of lithium batteries, and the fact that this powerful engine uses less of it is a good sign for the future.
The Performance of a Lifetime
Since the GMC Hummer SUV is fully electric, the powertrain lineup will be very different from the older models. Powered by a set of electric motors, the Hummer will be offered with one, two, or three motors. The powertrain with one electric motor will be equipped with RWD, and the powertrains with two and three electric motors will use an AWD system. With the ability to produce up to 1,000 hp and 11,500 lb-ft of torque, this SUV is unlike any other. You will be able to go off-roading just about anywhere, and you won't have to spend a penny on fuel. Although the official fuel economy rating has not yet been released, our best guess will be to expect to get about 400 miles of driving per charge.
Slipping Behind the Wheel: What to Expect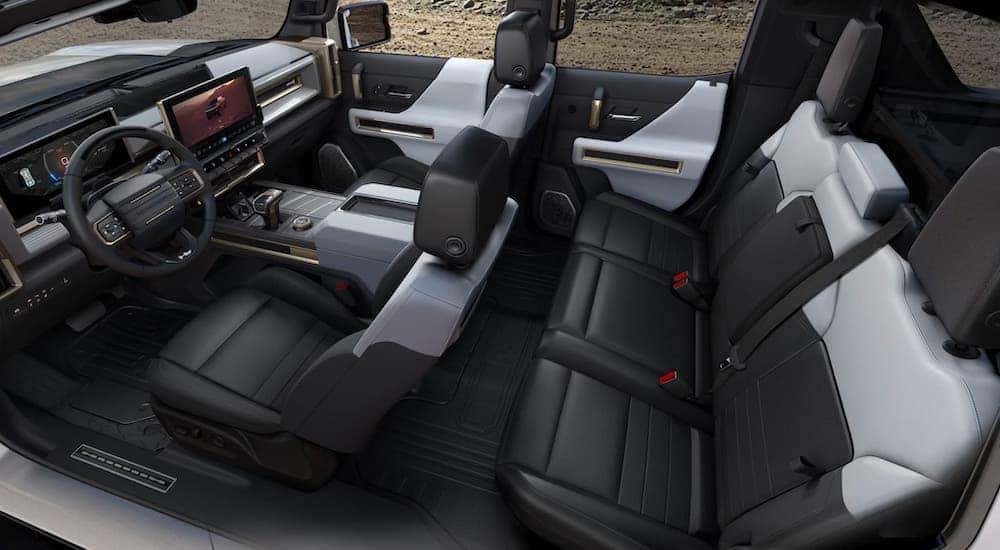 There haven't been very many details realized yet about the new GMC Hummer SUV. However, we do know that there will be plenty of room inside. Whether the vehicle has two or three rows of seating is still up in the air, but we can say with confidence that at least five people will be able to go for a ride at the same time. Ample cargo room is also expected.
As for interior features, we are expecting to see heated and cooled front seats covered in leather upholstery. We hope there will also be a digital cluster gauge and a head-up display that projects the vehicle's necessary information onto the windshield. This will allow you to stay up-to-date on the Hummer's stats without taking your eyes off the road.
Rumor has it that the vehicle's infotainment interface will be displayed on an extra-large touchscreen that operates with all of the most advanced connectivity features. These include Bluetooth phone/audio connectivity, a Wifi hotspot, Apple CarPlay, and Android Auto. You will be able to make phone calls, send text messages, stream your favorite music, and safely use your top apps. Stand-alone options may also include a navigation system, a premium stereo, a wireless charging pad for your mobile device, and a back-seat entertainment system compatible with Blu-ray and DVD.
If you are curious about the standard safety systems, we are too! GMC has not released these details yet, but we are assuming that the new GMC Hummer SUV will come with several advanced functions designed to protect you on the road. Adaptive cruise control, forward collision warning, emergency braking, blindspot monitoring, rear cross-traffic alert, and automatic high beams are a few that we typically see on larger vehicles. The Super Cruise automated lane-change assist feature will probably be included in the lineup as well.
Covered by Warranty
GMC's warranty is also pretty solid. The limited warranty covers your vehicle for 3 years or 36,000 miles, and the powertrain warranty protects you for up to 5 years or 60,000 miles. Another benefit to GMC's warranty coverage is that the first maintenance visit is free.
Join the Waitlist!
If you are chomping at the bit to get one of the new 2022 GMC Hummer SUVs, then give our experts at Frank Kent Country a call. As your local GMC dealership, we will stay up-to-date on all of the latest information about the new model. We will even let you know when they are headed to our lot. So get in touch with our team today to learn more about our other great GMC vehicles available for sale now, or stop by 2000 E State Hwy 31 in Corsicana to have a look for yourself!