Room To Grow In Chevy Suvs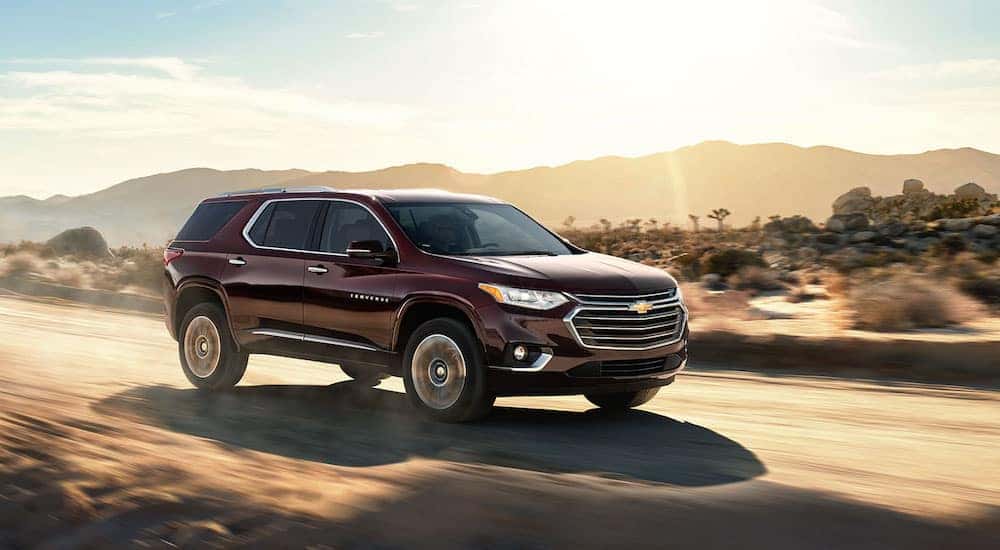 For those who have growing families or who already have large ones, a typical midsize sedan passenger car is unlikely to contain enough space without sticking a child in the dreaded middle seat (though the middle seat in the back of a car such as a midsize sedan has become increasingly safer with safety innovations in recent years) – or at all. For the family that is planning on adding more children in the next few years, it is important to get a car that will grow with you.
But size should not be the only consideration that a family makes when determining which new car they should ultimately purchase, especially with all the options that come standard with Chevy SUVs from a reputable dealership like Frank Kent Country. Other features, such as whatever safety features are offered as well as optional extras (depending on the size of the typical family's budget) should also come into play when in the process of making a decision – and hopefully buying a car.
Chevy SUVs Have Plenty Of Space For The Growing Family
But space is still highly important and even crucial, particularly for the busy and often still growing family in the United States. The space in the typical Chevy SUV isn't just beneficial for regular use, but for transporting friends of your children (and even friends of yourself) to various activities. Road trips are also considerably more pleasurable when taken in an SUV, as there is more space to stretch out and get comfortable.
For those with smaller families, there are what Chevrolet calls a small size SUV available for purchase, such as the Chevy Trax. Of Chevy SUVs, this is the smallest model offered – and it still has a total of five seats and a spacious first and second row alike. This model is also hugely ideal for those families that travel by car frequently and sometimes for long distances. For instance, the back seats, and the front passenger seat as well, can be folded down in various configurations to provide more storage space. This can be perfect for trips involving camping or other such adventures – or even just for rides to the airport, every family member's luggage easily packed and contained in the back of the Chevy Trax.
For those who are looking to stick to a strict budget without needing to compromise on space, the Chevy Trax is often the go-to of the Chevy SUVs currently available for purchase. With a starting price at only around $21,000, it is affordable for all different kinds of families. It is important to keep in mind, however, that this total overall price is likely to increase if additional extras are added, such as a number of entertainment features and even accessories like the optional cargo storage organizer (perfect for grocery trips and the like).
But for those who are looking to comfortably seat larger sized families, there are certainly Chevy SUVs available to you. take, for example, the Chevy Suburban, a large SUV with seating for as many as twelve seats in total. This means that carpools have become easy, as has taking only one car for large families who have always had to travel with the use of multiple vehicles. The storage space is also considerable and impressive. For instance, there is a storage console that is even large enough to comfortably store a full sized laptop. There are more than one hundred and twenty cubic feet of cargo feet, and like the Chevy Trax, a number of the seats are able to be folded down at will to make more space for various storage needs. Though this vehicle is considerably more expensive than the smaller Chevy SUV models, it is well worth the price for the family that is in need of the space for whatever reason.
The Safety Features of The Standard Chevy SUVs Are Incomparable
Aside from the space that they provide, the safety features of the standard Chevy SUVs are also highly considered during the purchasing process of such a vehicle. It is important to note that safe driving practices should always be utilized, but that the typical Chevy SUV does everything it can to protect the occupants of the motor vehicle before, during, and after a car or motor vehicle accident.
This can be seen in the number of preventative safety features available with an SUV such as the Chevy Suburban. One such feature is the low speed forward automatic braking. It helps to avoid even the most minor of accidents that could cause unnecessary damage to the vehicle. Other similar features include the forward collision alert system that comes standard with the SUV. This can prevent even more major car accidents that have the potential to lead to injury or even, in some cases, death. Combined with features such as the rear vision camera, the Chevy SUV is as safe a driving experience as a parent with children could ever hope for.
Making Your Final Choice
With so many great options when it comes to the wide selection of Chevy SUVs, it can be difficult to make a final decision. However, you should keep a few things in mind during your decision-making process, as finalizing these can help to narrow down your options. For one, you should always have your budget in mind. Going over the budget that you have set for yourself can have a number of negative consequences including a following financial instability or a lack of funds to make the monthly car payments that will be required. Sticking to a budget can also be a great way of ruling cars out, making your overall decision a simpler and easier one.
Knowing your needs is also important when you are in the process of shopping for a new (or new to you) vehicle. If you get a car that is too small or too big, it is far from the ideal situation. Know your needs before you go in to seriously look at cars, as it will make your selections more specific and purposeful.
When you're ready to begin the search for your Chevy SUV, visit Frank Kent Country. Our knowledgeable staff is eager to show you the latest makes and models, or help you find the right certified pre-owned vehicle for you.