North, East, South, West: No Matter Your Location, A Chevy Silverado Is Right For You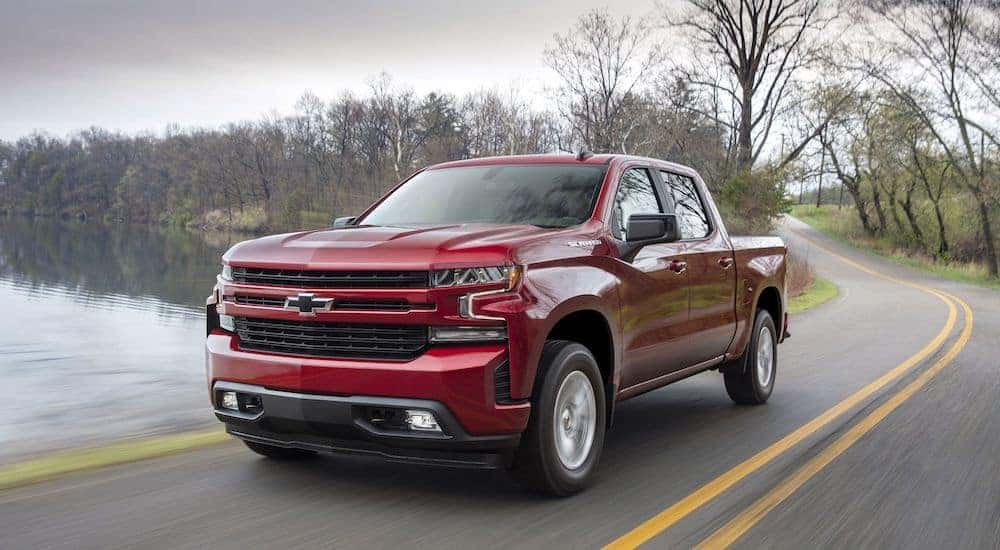 Some cars and trucks are perfectly suited for some locations, but not to others. Take for example a convertible Corvette – obviously, it's the ideal car for cruising down the coast of sunny Florida, but it probably isn't the car you want to be in when you're battling ice and a few feet of snow in Vermont. Likewise, you'll be just fine taking your Tahoe out in California, but it doesn't exactly fit in with that whole beach vibe. No matter where you live, there are challenges that your vehicle must be able to overcome, which is why it's important to really shop your Chevy dealer and make sure you're buying a vehicle that meets your needs 365 days out of the year. Of course, no matter if you shop for a Chevy in Dallas, Boston, Miami, Las Vegas or Sioux Falls, there is one Chevy model that can beat the heat, tackle the cold and be there to get you from here to anywhere. If you're looking for the ultimate vehicle, no matter where you are located, the 2018 Chevy Silverado is an unbeatable choice.
North
Let's be honest, while there is obviously more to living in the North than just being faced with one blizzard after the next, for about seven months out of the year, it can sure feel like all you do is watch the weather and worry about excessive amounts of snowfall – and of course, there is the constant fear of being snowed-in. Choose to drive a Chevy Silverado in the North, and not only will you not have to worry about snowfall stopping you from where you need to be, you could even make additional cash by turning your Silverado into a plow truck.
Additionally, thanks to the Chevy Silverado, you may become the new neighborhood hero! With a maximum towing capacity of 12,500 pounds, don't be surprised if you're Chevy Silverado is called on to pull more than one car in your neighborhood out of a snowbank.
Another big thing you need to consider when you live in a climate with inclement weather is your vehicle's safety. Fortunately, the 2018 Chevy Silverado boasts a five-star overall crash test rating from the National Highway Traffic Safety Administration, so you can rest assured that even if the roads aren't the safest, your truck sure is.
East
The North isn't the only direction that can get walloped by snow in this country. The entire East coast certainly has seen its fair share of blizzards and ice storms as well. However, what really sets the East coast apart from the West is not just the weather, but also it's dramatic change of seasons – especially up in the Northeast corridor. The beauty of the change of season drives people from all over the country, but especially East coasters, to head northward to view the gorgeous change of leaves in the fall. Leaf peepers, as they are affectionately known, may log hundreds of miles in just a few short days trying to catch the vibrant reds, yellows and oranges of the leaves – which means fuel economy is of top importance. The Chevy Silverado has three engine options to choose from, but the base model is a V6 engine that gets an EPA-estimated 18 miles per gallon in the city, and 24 miles per gallon on the highway, which will save you quite a bit of cash at the pump – all the better to spend on annual leaf-peeping accommodations.
Of course, it isn't only the beauty fall that drives people out and about. The East coast benefits from having many states lining its seaboard, so it can be quick and easy to plan a road trip to visit friends in an entirely different state. That said, no one wants to risk crossing state lines in a truck or car that is prone to breakdowns, so finding a vehicle that's roadworthy and reliable is critical before embarking on a road trip. The 2018 Chevy Silverado has been given a 4.5 out of five predicted reliability from J.D. Power and Associates and considering that the average rating is merely a three, you can feel confident that your Silverado is certainly up for the challenge of exploring new city and states.
South
Once you hit the South, it can start to feel like year-round summer. What better vehicle could there possibly be than one that has room for all of your friends and all of your stuff? The 2018 Chevy Silverado is available in several different cab/bed configurations, so depending on how you like to spend your days, you can customize your Chevy Silverado to max out your enjoyment. Once again, the Silverado's max towing capacity will come in handy as you tow your boat or jet skis up to the lake. With its maximum payload of up to 2,250 pounds, you can also feel confident loading down your Chevy Silverado with way more than just coolers and beach chairs – you can throw a kayak or two in there as well and make it a real day out on the water, soaking up the sun.
If you're more interested in kicking up dust than you are laying in the sand, the Chevy Silverado Z71 is right up your alley. Choose the off-road package if features like a locking differential, hill descent control, and a heavy-duty suspension are features you need to fully explore the southern back roads.
West
Head out west and you'll find amazing outdoor spaces and national parks, beach and a wealth of beautiful landscape to explore. Of course, you also have very large swathes of essentially desert territory to cover in some areas, so it's critical that you have some luxuries to keep you feeling connected. With several trim types to choose from, you may find yourself crossing the desert in a Silverado loaded down with features that include leather upholstery, Chevy's MyLink infotainment system, wireless charging, USB ports, and Bluetooth connectivity. There are many different trims to choose from, so no matter if you're interested in keep it basic, or if you want to ride across the US in total luxury and style, there is a 2018 Chevy Silverado trim that's perfect for your driving needs.
Visit Frank Kent Country and Get Out and See Our Country
There is no denying that the United States is vast. There is also no denying that there is only one truck that is ready to take on the challenge that different terrains and different seasons offer. Come by and visit Frank Kent Country and see why, no matter where you live or where you plan to go, the 2018 Chevy Silverado is the truck you should depend on.