Is It Bigger, Brighter, And Bolder? Then It Must Be A GMC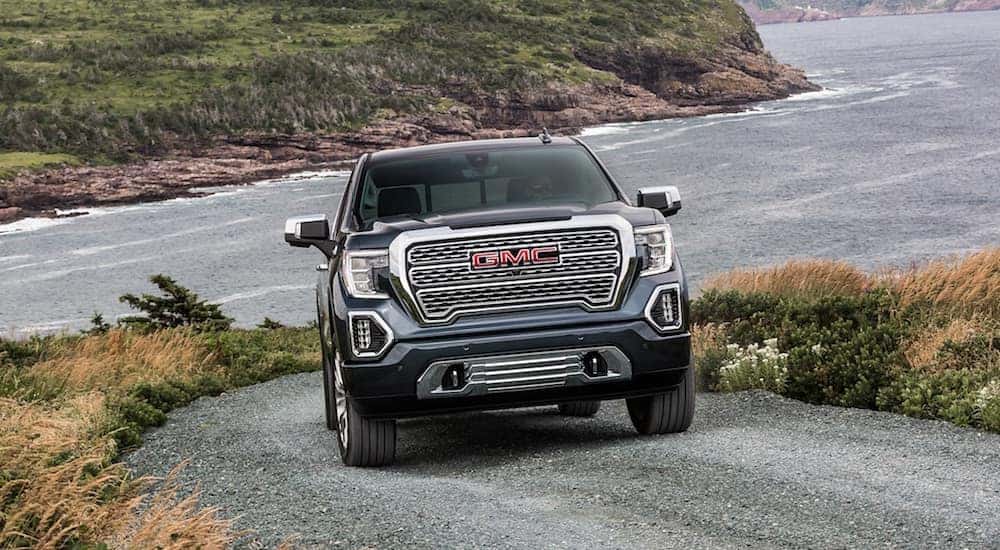 It may not be enough to just be the biggest, it may not be enough to just be the brightest, and it may not even be enough to just be the boldest. So when you want a vehicle that is the biggest, brightest, and boldest, that's when you know you need a GMC in Dallas.
GMC Automotive Manufacturer
Founded over a century ago in 1911, GMC is one of the automotive divisions of General Motors that focuses solely on larger vehicles such as trucks and SUVs. At GMC they have perfected the art of "bigger is better", and have even elevated their commanding vehicles with intelligence technology and luxury accommodations. Anyone who is a true enthusiast of powerful and elegant vehicles will find their home in a GMC vehicle. With the motto "We Are Professional Grade" GMC has shown time and again its dedication to the craft of large vehicle engineering, and continues to show it in every automotive they manufacture.
GMC Vehicles
GMC vehicles come in only two types, big and powerful or bigger and more powerful. Their boldness and strength become evident the second you see them, and their ability to turn heads is beyond any in their class. That being said there is a lot more to these beasts of the road than brute strength and massive builds. GMC SUVs and trucks are truly some of the most elegantly designed vehicles of their class and size. Not a single exterior or interior element is out of place as every part comes together to create one cohesive design that is tastefully rugged. So let's move past the praise, and allow the stats of these GMC vehicles to speak for themselves.
SUVs
SUVs have been growing in popularity over the last few years due to their ability to incorporate the best of all vehicle types. SUVs offer the chic styling and smooth handling of smaller vehicles such as sedans but include the power and utility of larger vehicles like trucks. The biggest appeal of SUVs though will always be their versatility and convenience due to their flexible cargo area and luxurious cabin amenities.
GMC Terrain
The GMC Terrain is the smallest of the three GMC SUVs that are currently on the market, but that does not imply it can't take a beating and come back swinging. The GMC Terrain is a fighter, and as its namesake suggests it has some impressive off-roading capabilities. No matter where you need to be the GMC Terrain will get you there in one piece.
MSRP: $25,000
Dimensions: 182″ L x 72″ W x 65″ H
Cargo Space: 29.6 ft³, 63.3 ft³ with seat area
Seating capacity: 5
Horsepower: 252 hp
MPG: 28 city / 39 highway
Towing capacity: 1,500 to 3,500 pounds
GMC Acadia
If you desire a vehicle that is perfectly-sized for pretty much any journey you may consider taking, then the GMC Acadia is that perfect middle ground. Whether it is a camping trip that requires a ton of gear or a trip to the mall during the Christmas season rush, the Acadia will be the perfect partner to assist you getting the job done in the most efficient way possible.
MSRP: $29,000
Dimensions: 194″ L x 75″ W x 66″ H
Cargo space: 12.8 ft³, 79 ft³ with seat area
Seating capacity: 7
Horsepower: 310 hp
MPG: 21 city / 26 highway
Towing capacity: 1,000 to 4,000 pounds
GMC Yukon and Yukon XL
The GMC Yukon and Yukon XL are the larger SUVs that can house the whole family and their cargo if need be. As powerful as it is big the Yukon is only limited by the imagination of the person who drives it. You will also notice that despite its size these two models are extremely elegant in design and have the handling capability of much smaller vehicles.
Yukon
MSRP: $49,500
Dimensions: 204″ L x 81″ W x 74″ H
Cargo space: 15.3 ft³, 94.7 ft³ with seat area
Seating: 8
Horsepower: 355 to 420 hp
Torque: 383 to 460 lb-ft
Towing capacity: 6,300 to 8,400 pounds
Yukon XL
MSRP: $52,200
Dimensions: 224″ L x 81″ W x 74″ H
Cargo space: 39.3 ft³, 121.7 ft³ with seat area
Seating: 8
Horsepower: 355 to 420 hp
Torque: 383 to 460 lb-ft
Towing capacity: 6,000 to 8,100 pounds
Pickup Trucks
Pickup trucks are a great investment for anyone who loves to get down and dirty with no worries about how it will affect your precious vehicle. Resilient by design, GMC trucks like the Sierra series were made to last with bodies made of high-strength steel and a number of other bold and brilliant features that are as stylish as they are efficient. So if your life requires a lot of heavy lifting and rough roads you should feel confident investing in a GMC truck.
GMC Canyon
The GMC Canyon is sadly often overshadowed by the impressive might and popularity of the Sierra series, but it deserves a lot more attention than it receives. As far as mid-sized trucks go the GMC Canyon is extremely affordable for the performance output it is offering. Nothing about its style is unappealing, and it even tones down the boldness just a bit for those who want something a little more clean cut.
MSRP: $21,400
Dimensions: 212-225″ L x 74″ W x 70-71″ H
Bed length: 61.2 to 74.4″
Horsepower: 181 to 308 hp
Torque: 191 to 369 lb-ft
Towing capacity: 3,500 to 7,000 pounds
MPG: 22 city / 30 highway
The Sierra Series
The Sierra series features the 1500 light-duty, as well as the 2500 and 3500 heavy-duty, are renowned as some of the absolute best trucks in their class. There is no question as to why, considering their stunningly bold designs, luxurious accommodations, and outstanding performance records. That is why when all is said and done; the Sierra trucks are nothing short of a truck enthusiast's dream vehicle.
GMC Sierra 1500
MSRP: $33,500
Dimensions: 232-241″ L x 81″ W x 75-76″ H
Bed length: 69.6 to 79.2″
Horsepower: 285 to 420 hp
Torque: 305 to 460 lb-ft
MPG: 17 city / 23 highway
Towing capacity: 7,500 to 12,200 pounds
GMC Sierra 2500
MSRP: $38,100
Dimensions: 230-581″ L x 81″ W x 78″ H
Bed length: 79.2 to 97.2″
Horsepower: 360 to 445 hp
Torque: 910 lb-ft
Towing capacity: 15,400 pounds
Curb weight: 6,199 to 6,689 pounds
GMC Sierra 3500
MSRP: $40,600
Dimensions: 240-258″ L x 81-96″ W x 78″ H
Bed length: 79.2 to 97.2″
Horsepower: 360 to 445 hp
Torque: 910 lb-ft
Towing capacity: 23,100 pounds
Curb weight: 6,423 to 7,239 pounds
Frank Kent Country
If you're looking for a GMC in Dallas then Frank Kent Country should be your first stop. We are the home of the biggest, brightest, and boldest vehicles in the nation, and where better to find them than in Dallas, Texas, where bigger is always better. At Frank Kent Country General Motors Dealership, we are proud to provide GMC vehicles to the Dallas community whom we know will appreciate them for the elegant beast they are designed to be.