Highlighting The Best Aspects Of Buick SUVs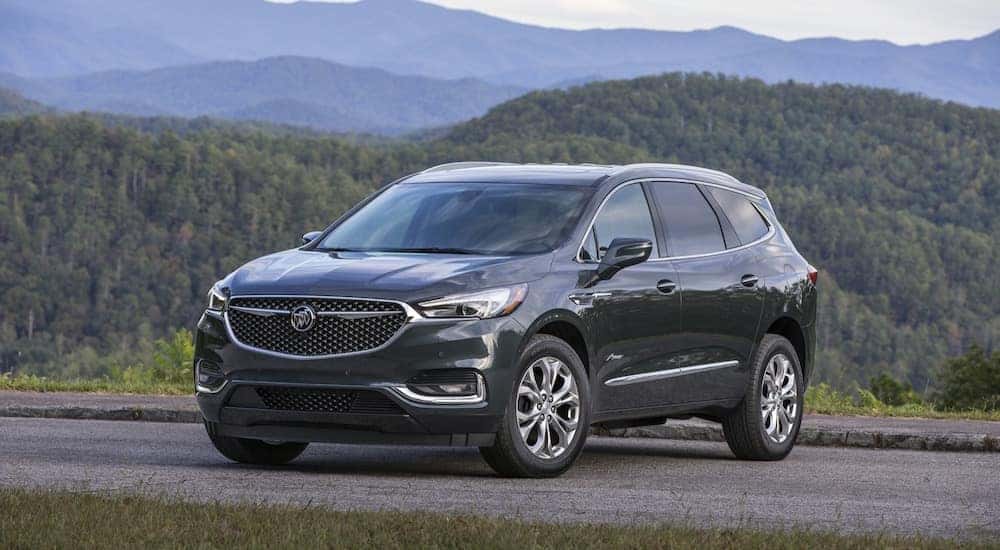 If you're in the market for one of Buick SUVs, then well done: you've made an excellent decision. Unfortunately, that decision is still going to be pretty tough. After all, each Buick SUV is worth pursuing, as they deliver a blend of efficiency, technology, safety, and interior space. After exploring what each of these nameplates has to offer, you probably won't have a whole lot of clarity when it comes to your decision.
Fortunately, we're here to help. Below, we explored what particular attribute stands out on each of the Buick SUVs, which could make your decision a bit easier when you finally head into that nearby Buick dealership.
2019 Buick Encore: Efficiency
If you're opting for one of Buick's incredible luxury vehicles, we're sure you're not overly focused on saving money. However, finding a sports utility vehicle that's able to deliver excellent efficiency numbers is still preferable, but pursuit is easier said than done. Fortunately, you'll be able to capitalize on this attribute if you end up opting for the 2019 Buick Encore.
The 1.4-liter turbo engine has proven to be one of the most versatile offerings in the entire class, providing customers with a unique blend of power and efficiency. The system is ultimately capable of delivering a practically-unprecedented 33-mile-per-gallon highway fuel efficiency. These unseen numbers can mostly be attributed to the system's fuel-saving technologies, including Variable Valve Timing, Direct Injection, and Stop/Start functions. Despite these incredible numbers, the unit still proves to be relatively fuel-efficient, promising drivers up to 138 horsepower and 148 pound-feet of torque. Thanks to these two numbers, drivers will still be able to cruise down the highway with absolute ease.
A number of additional amenities will come in handy as you're operating your new SUV. The intelligent All-Wheel-Drive system will help you overcome any adverse road conditions, while the StabiliTrak electronic stability control system promises that you'll always have an optimal handle of your ride.
Of course, the vehicle doesn't solely provide a smooth driving experience and top-notch efficiency. Rather, engineers refined the exterior, leading to one of the most striking SUVs on the market. The sport exhaust tip adds a bit of athleticism to your brand-new ride, while the premium LED lighting assures that your fellow drivers are always aware of your presence. To top it all off, the array of available wheel options will surely leave everyone gawking, and they'll also play a practical role in helping you overcome any types of tough terrain.
2019 Regal TourX: Technology
This nameplate is known for a long list of functions and amenities, making it one of the most well-versed SUVs in the entire class. However, when it comes down to it, the 2019 Regal TourX really manages to impress thanks to one attribute: technology. The various inclusions will play a major role in improving any driving experience.
It starts with the brand's Buick Infotainment System, which helps connect drivers to an array of useful applications. For instance, the brand's innovative Connected Navigation unit will promise that you'll always arrive at your destination without any issues. Best of all, the Apple CarPlay and Android Auto compatibility means you can always connect your phone to the system. That way, you can safely complete phone calls and send text messages, all leading to the utmost convenience.
Several additional amenities will also help to improve any commute or trip. The wireless charging dock means you can continue relying on your smartphone without having to deal with any pesky wires. There's even an available Wi-Fi hotspot, meaning all of your passengers can consistently have access to a strong and reliable wireless internet connection.
Finally, one of the 2019 Regal TourX's clever technological inclusions can come in handy when you're not in the vehicle. The myBuick application allows you to remotely connect with your SUV at all times. With the simple tap of a smartphone, owners can start or stop their engine, lock or unlock their doors, and view important vehicle diagnostics. That way, even when you're away from your brand-new luxury SUV, you can still stay connected.
2019 Buick Envision: Safety
All of Buick's vehicles are renowned for their safety functions, and the 2019 Buick Envision is no exception. The nameplate delivers a long list of top-notch safety functions. Ultimately, these features won't only keep passengers protected in the event of an emergency, but they'll also play a significant role in preventing those accidents from occurring in the first place.
For instance, inclusions like the Lane Keep Assist (with Lane Departure Warning) assure that drivers are always maintaining their intended path, while the Lane Change Alert (with Side Blind Zone Alert) will provide the driver with an extra set of eyes. The Forward Collision Alert is perhaps the most notable safety function, as this technology will notify the driver when a collision appears to be imminent. If the driver doesn't react to the audible or visual cues, the Forward Automatic Braking will apply some stoppage power to help lessen or prevent the collision from happening.
Meanwhile, many of the inclusions will help to reduce fender benders and parking-lot accidents. The Rear Vision Camera (or the available Surround Vision technology) allows drivers to monitor everything that's happening behind their SUV. The accompanying Rear Cross Traffic Alert is just as useful, as it will notify the driver when another vehicle is about to cross their path.
If you do find yourself in an accident, there's no need to worry. The 2019 Buick Envision is equipped with an intelligent airbag system, meaning occupants will only receive the optimal amount of cushion during a crash. Plus, the sturdy and rigged body structure won't compromise during a crash.
2019 Buick Enclave: Interior
Considering the Buick Enclave is one of the brand's largest vehicles, it shouldn't be all that surprising that the interior manages to deliver a whole lot of interior space. Owners will be able to rely on the SUV as the ultimate road-tripping vehicle, although that cargo space will also be useful for those everyday rides with the kids.
The vehicle automatically delivers a roomy 23.6-cubic-feet of space behind the third row, but this number is increased to an incredible 58-cubic-feet of space when drivers hide the back seats. If you really want to take advantage of the interior, you can hide the second and third row, which unlocks a practically-unmatched 97.6-cubic-feet of space.
Of course, engineers added a number of amenities that will make it easy to unlock all of this cargo space. The Smart Slide second-row seating makes it incredibly easy to access the rear, while the available power-folding split third-row seating makes for easy hiding.
All The Buick SUVs at Frank Kent Country!
We're sorry… you're probably still going to have a tough time choosing between the Buick SUVs (after all, they're all so impressive). Fortunately, if you live in the Corsicana, Texas area, there's no better place to make that purchase than Frank Kent Country. We provide all of the advantages you could possibly want from a car seller… and a whole lot more.
For instance, our wide array of services will be useful during your buying (and your subsequent owning) experience. The finance department will help you find an affordable payment plan, while the service department will quickly fix up any issue you come across with your new Buick. Of course, our vast inventory is plenty affordable, and our convenient hours mean you'll always have time to visit.
So what are you waiting for? If you're hunting around for Buick SUVs, there's no better place to make that purchase than Frank Kent Country.