Going Head to Head: GMC SUVs vs Ford SUVs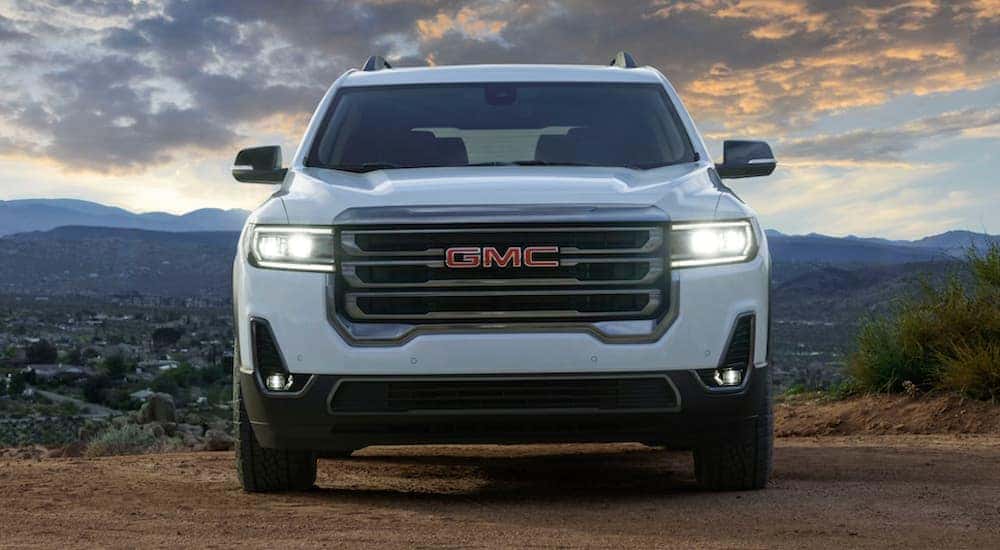 Are you in the market for an SUV? As you consider your options, it's important to think about the SUV that best meets your needs, from your lifestyle to passenger and cargo space to safety, technology, and other features. The team here at Frank Kent Country is happy to help you select the best SUV for your needs, which is what inspired us to take a closer look at two of the biggest competitors on the road today – GMC SUVs vs Ford SUVs. Let's find out why GMC takes the lead when it comes to luxury and affordability!
2020 GMC Terrain vs 2020 Ford Escape
One of GMC's best-selling entry-level SUVs is the Terrain, which starts at $26,195 and offers an impressive lineup of safety and technology features as well as performance and comfort. Although the Terrain is classified as a small SUV, GMC maximized its interior volume by including flexible seating for five and a flat load floor, which makes hauling passengers and cargo effortless. Beyond the spacious interior, the Terrain also includes GMC's Pro Safety package, which gives drivers confidence behind the wheel. With Automatic Emergency Braking, Forward Collision Alert, Lane Keep Assist, Lane Departure Warning, and more, the Terrain will help keep you safe on the road.
Under the hood, the Terrain SLE and SLT come standard with a 1.5-liter turbocharged gasoline engine that produces 170 hp and 203 lb-ft of torque with a maximum towing capacity of 1,500 lbs. Drivers have the option of upgrading to a larger 2.0-liter turbocharged engine that delivers 252 hp and 260 lb-ft of torque with a trailering capacity of 3,500 lbs. Of course, there's a slight difference in fuel economy between the two engines, with the 1.5-liter averaging 27 MPG combined while the 2.0-liter comes in at 24 MPG combined.
The Ford alternative to the GMC Terrain is the Escape, which is similar in size but decidedly lacking in features. In fact, the 2020 Escape tops out with Ford's semi-luxury Titanium trim, which is comparable to the GMC SLT trim and is no match for the top of the line GMC Denali trim. The only advantage the Escape really has over the Terrain is its lower starting price of $24,885 – but that is a direct result of its more limited features. For instance, comparing the base Escape S against the base Terrain SL, you will find that the Ford has steel wheels instead of alloy wheels, lacks keyless entry and start, and comes with a tiny 4.2″ infotainment screen instead of the 7″ screen in the Terrain.
Like the GMC Terrain, the Ford Escape offers both 1.5-liter and 2.0-liter turbocharged engines. However, while the base engine in the Terrain is a four-cylinder, the base engine in the Escape is a three-cylinder. This means that the Ford only has 177 lb-feet of torque against 203 lb-ft in the GMC and offers an overall less refined ride. Further, the Terrain has a standard 9-speed automatic transmission while the Escape comes with an 8-speed automatic. Upgrading to the Ford 2.0-liter engine levels the playing field when it comes to power thanks to its 250 hp and 3,500 lbs of towing, but it still leaves the Escape playing catchup when it comes to luxury features.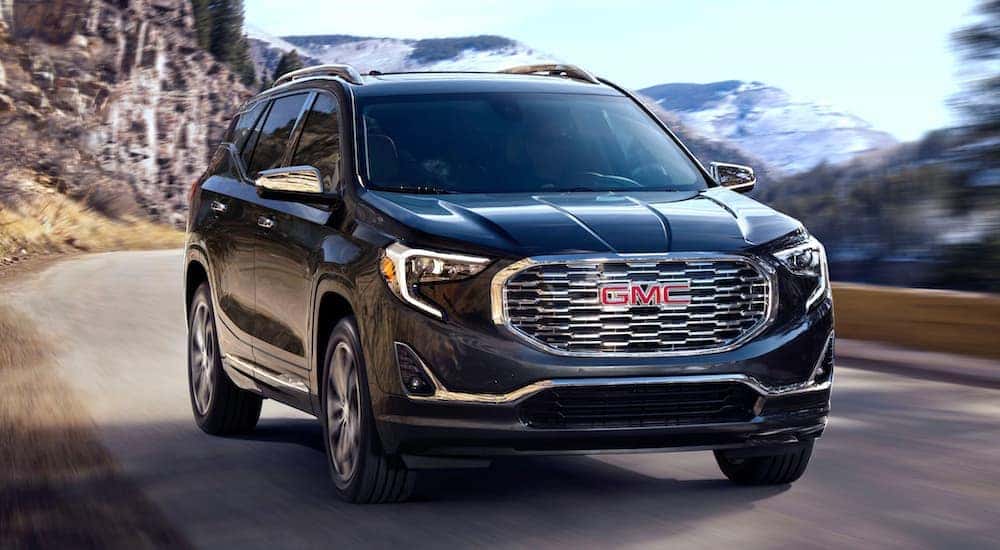 2020 GMC Acadia vs 2020 Ford Explorer
The GMC Acadia starts at $30,995 and offers flexible seating for seven across its SL, SLE, SLT, AT4, and Denali trims. Like the smaller Terrain, the Acadia gives drivers enhanced peace of mind with several standard and available safety features like Lane Change Alert, Side Blind Zone Alert, and Rear Cross-Traffic Alert. It also boasts a 6″ color head-up display to give drivers all the information they need the moment they get behind the wheel.
GM offers three powertrain options on the Acadia, depending on the trim. A 2.5-liter four-cylinder engine is standard on the SL and SLE and delivers 193 hp and 188 lb-ft of torque with a fuel economy of 23 MPG combined. The Acadia SLT offers a 2.0-liter turbocharged engine that increases the output to 230 hp and 258 lb-ft of torque while simultaneously improving fuel economy to 24 MPG combined. Finally, a 3.6-liter V6 engine produces the most power for the Acadia and delivers 310 hp and 271 lb-ft of torque with a surprisingly good fuel economy of 22 MPG combined.
The 2020 Ford Explorer is the Acadia's direct competitor, and it also offers five trim levels – Explorer, XLT, Limited, ST, and Platinum. Unlike the Escape, the Explorer actually competes fairly well with its GMC counterpart when it comes to luxury features. However, that should be expected given that the Ford has a higher starting MSRP of $32,765. But the GMC still has something that the Ford does not – a dedicated off-road trim in the form of the Acadia AT4.
While Ford has attempted to turn the Explorer into a street performance vehicle with the powerful ST trim, it has neglected the more important off-road performance side. High horsepower figures are certainly fun to boast about, but a three-row SUV will never be a sports car no matter how large an engine you put in it. Meanwhile, the GMC AT4 trim offers an excellent blend of practicality and luxury, allowing you to travel back roads and dirt trails in style with its grippy all-terrain tires and advanced twin-clutch all-wheel drive system.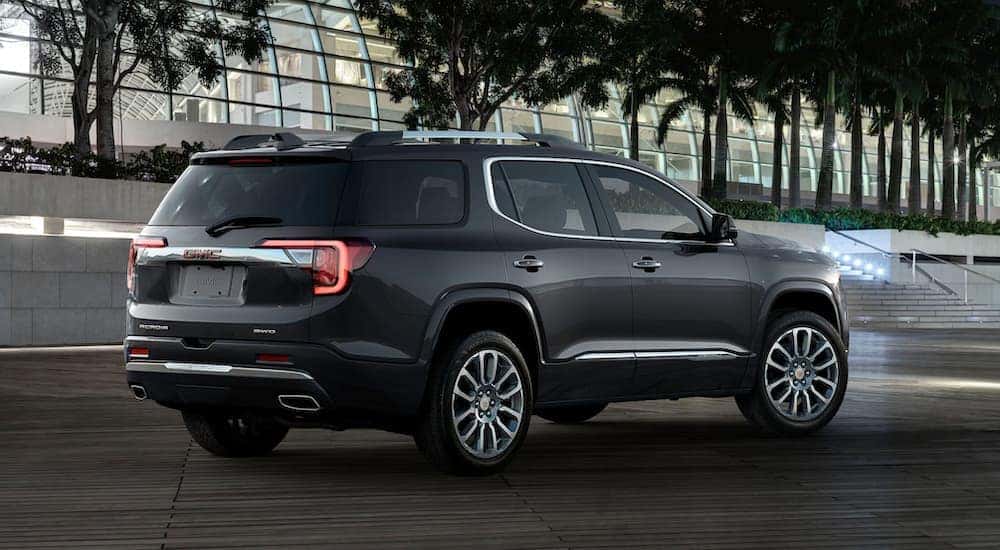 The Verdict: GMC's Denali Trim Pushes Ahead
When comparing GMC SUVs to Ford SUVs, there are many notable similarities whether you're comparing entry-level models like the GMC Terrain and the Ford Escape or larger SUVs like the GMC Acadia and the Ford Expedition. In these comparisons, we see that both GMC and Ford offer drivers a similar lineup of SUV sizes, but Ford focuses more on low prices while GMC delivers premium features and practical performance. This difference in philosophy is highlighted by the luxurious GMC Denali trim.
The Denali trim level is available on all current GMC models and elevates their already outstanding looks and features to the next level. All Denali models can be easily identified by their unique chrome grilles and stylish exterior elements, but Denali is far more than just an appearance package. Inside these luxury vehicles, you can expect to find a long list of luxury, technology, and performance features from high-quality leather upholstery, to premium sound systems, to more powerful engines. Although Ford's Platinum trim level attempts to compete with GMC's Denali, it is not universally available on all Ford models, it lacks the major styling improvements, and it's features are not always up to spec, depending on the model.
Visit Frank Kent Country for Your SUV Needs
Now that we've taken a closer look at GMC SUVs vs Ford SUVs, chances are you may have a few more questions or are ready to take a test drive. Whatever you need to take your next step in the car buying process, our team here at Frank Kent Country is ready to help you out. During your visit to our Corsicana dealership, you'll discover our commitment to serving our customers and our community with honesty and integrity. Take the time to give us a call or drop by in person to experience what Frank Kent Country and GMC can do for you.