GMC's Pickups Pack The Power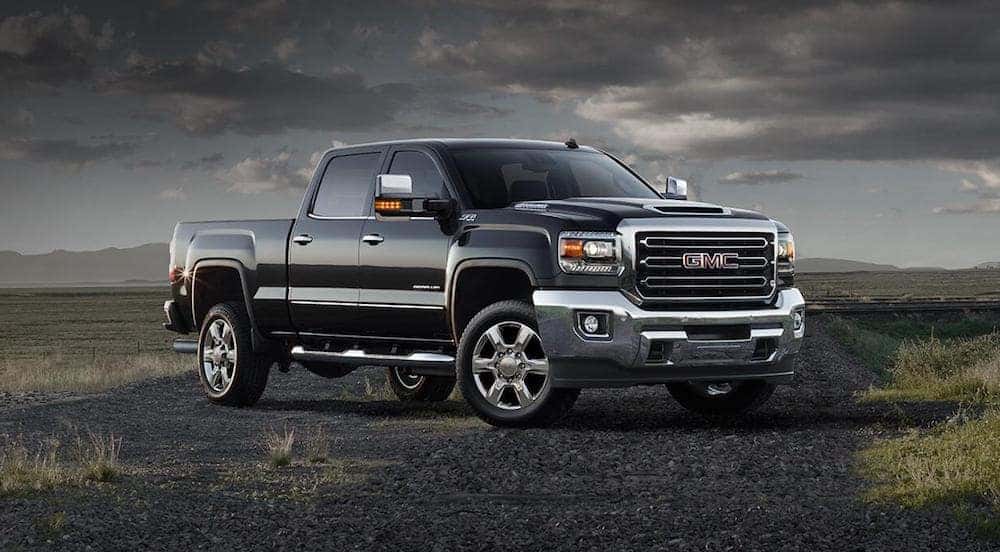 When its time to start looking for that new pickup truck it can be difficult narrowing your list to a specific brand and model. After all, most of the trucks that are currently on the market are seemingly equipped with the latest technological amenities. Furthermore, they also provide plenty of space in the bed, and some vehicles even include a cargo management system. When you're exploring all your options, all of the trucks might start looking the same.
That means you might have to switch your focus to under the hood. Well, if you're attempting to compare trucks based on their power and engines, you won't have to look elsewhere than GMC. After all, the brand offers some of the most powerful engines in the entire industry, leading to some impressive towing specs. As a cherry on top, some of these systems have even proven to be fuel efficient.
If you're currently narrowing down your list of potential pickup targets, see why you should be pursuing that truck from a GMC dealer…
2018 GMC Canyon
Sure, this may be the brand's smallest pickup offering, but that doesn't mean the nameplate still isn't capable of packing a punch. Each of the three engine offerings manages to pump out a whole lot of power… and they're also surprisingly fuel efficient.
The standard 2.5-liter I4 DOHC engine pumps out a respectable 200 horsepower and 191 pound-feet of torque, meaning you'll be more than ready to overcome any of your fellow drivers. However, the unit truly makes a name for itself thanks to its fuel efficiency. With fuel-saving technologies like Direct Fuel Injection and Variable Valve Timing, drivers can ultimately anticipate an astonishing 26-mile-per-gallon highway fuel economy.
Of course, the brand's other two engine offerings are just as impressive. The 3.6-liter V6 DI DOHC VVT engine cranks out 308 horsepower and 275 pound-feet of torque, leading to a 7,000-pound max trailering weight. The system also contains a number of fuel-saving technologies, resulting in a 25-mile-per-gallon highway fuel efficiency.
The final offering is the Duramax 2.8-liter Turbo Diesel I-4 engine, which ultimately pumps out 181 horsepower and an astounding 369 lb-ft of torque. Of course, this system is as efficient as they come, and drivers will be able to pocket some extra money thanks to the 30-mile-per-gallon highway fuel efficiency.
2018 GMC Sierra
If you like options, then you'll love building your 2018 GMC Sierra. After all, the brand provides customers with the opportunity to choose from four capable engine offerings, meaning you can pursue the system that best fits your wants and needs.
The 5.3-liter EcoTec3 V8 engine is the standard offering. The system is capable of delivering an impressive 355 horsepower and 383 pound-feet of torque, leading to a max conventional trailering weight of 6,400 pounds (with the accompanying 3.08 rear axle). The alternative 5.3-liter EcoTec V8 eAssist engine delivers similar power specs. However, thanks to inclusions like Active Fuel Management, Direct Injection, and Variable Valve Timing, drivers can anticipate an improvement on the 22-mile-per-gallon highway fuel efficiency that's provided by the standard option.
Looking for a bit more power? Then you'll appreciate the hulking 6.2-liter EcoTec3 V8 engine. This unit delivers some of the best power specs among all of the brand's offerings, as drivers can capitalize on the 420 horsepower and 460 pound-feet of torque. On the flip side, the 4.3-liter EcoTec3 V6 engine delivers "only" 285 horsepower and 305 pound-feet of torque. However, thanks to the smaller displacement, drivers can still anticipate a 24-mile-per-gallon highway fuel efficiency.
2018 GMC Sierra HD
If you thought the previous GMC pickup was impressive, wait until you get a look at its older brother. The 2018 GMC Sierra may legitimately be the most impressive pickup in the entire industry. Each of the two engine offerings delivers all of the power you could possibly want, only boosting the vehicle's versatility.
The Vortex 6.0-liter V8 SFI engine is the standard offering. However, don't make any mistakes… this system isn't your typical "standard engine offering." Rather, the engine cranks out a whole lot of power at 360 horsepower and 380 pound-feet of torque, making it the perfect worksite companion. Thanks to these numbers, the vehicle has an absolutely incredible max 5th wheel trailering weight of 14,300 pounds (with the 4.10 rear axle).
The Duramax 6.6-liter Turbo-Diesel V8 engine somehow takes those power specs to a whole new level. Drivers can ultimately expect an astonishing 445 horsepower and 910 pound-feet of torque, meaning you'll be cruising around town in one of the most powerful vehicles out there. These numbers have a predictable effect on towing, as the gross combined weight rating comes in at an eye-popping 25,300 pounds (with the 3.73 rear axle). Accompanied by the six-speed Allison automatic transmission, drivers can truly anticipate one of the best rides in the entire industry.
If you're in the market for one of GMC's incredible pickup trucks and you live in the Corsicana, Texas area, there's no better place to make that purchase than Frank Kent Country. Our dealership not only provides the best prices in the area but we also offer a number of additional amenities that make us a must-stop for anyone purchasing a vehicle.
Our dealership is stocked with a number of new and pre-owned vehicles providing buying opportunities to customers on any budget. Furthermore, we also pride ourselves on supporting our customers before and after they have completed their purchase with us. With our finance department to help customers find a payment plan that makes sense for their budget, and the service and parts department offering factory trained expertise on any maintenance related questions you might have. We even offer a full-service body shop, meaning Frank Kent Country is your one-stop shop for all of your automotive needs.