Buick Dealerships: Why We Only Live To Serve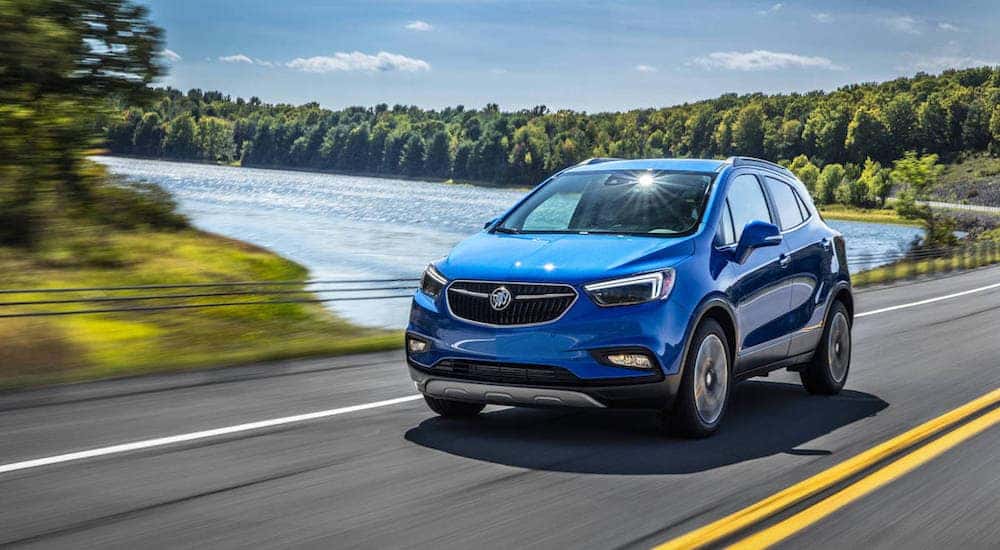 Let's just face it; life is difficult. You work seemingly endless hours in order to provide for yourself and those you care for only for your free time to be taken over by the persistent need to maintain your mental, physical, emotional, and social health. The balancing act we perform every second of every day is nothing sort of exhausting as sacrifices are always being made. If you want to sleep you better be willing to have no social life, and if you want to push yourself to grow your talents, you need to get ready for some emotional draining or a complete mental breakdown. The point is, we could all use some help every now and then, and lucky for us a Buick dealership lives to serve.
How Buicks Serve
Buicks are impressively reliable vehicles that are designed to make your life better in all the ways that matter. The most notable way a Buick vehicle will elevate your life though is by presenting you as a driver the most precious gift of all, freedom. With a Buick vehicle on your side, you can fight the stagnation that can lead to unhealthy monotony and harmful ignorance. Traveling freely and experience life to the fullest helps break this. Whether it's a trip to the store or a weekend camping trip, a Buick vehicle is the perfect travel aid with its steadfast performance capabilities and elegant design.
Buicks are also known to be luxury vehicles that offer drivers the finer things in life. The style of every Buick cars and SUVs can best be described as refined. A sleek body and compact grille are common design themes across all Buicks, making them appear refreshingly crisp and clean. The features are minimalistic like a plate at a five-star restaurant, and as each unobtrusive element works together seamlessly to create a cohesive design, the eyes become fixated on the overall appeal of the vehicle. They are also fitted with the finest features the automotive world can offer that will keep you safe, comfortable, entertained, connected, and always performing at your best. Basically, if a high-class assistant could turn into a vehicle, it would be a Buick.
The Buicks That Serve
The Buick lineup consists of sedans, hatchbacks, crossovers, and SUVs. Each model is designed with careful craftsmanship that focuses heavily on refinement at its best. Amenities such as cabin comforts, flexible cargo areas, active safety awareness tech, and an intelligent infotainment system with smartphone connectivity are also never in short supply no matter which luxury model you choose. Buick takes pride in being a luxury brand with everyday pricing, and so you can always count on a Buick vehicle to perform with elegance and quality. While driving one yourself is the best way to experience the refinement of a Buick, here are a few highlights from the most popular vehicles Buick has to offer:
Buick LaCrosse
The sporty Buick LaCrosse gets its name from the lively sport lacrosse. Lacrosse is a game that requires sharp wits, graceful handling, and impeccable precision; which makes it the ideal namesake for a vehicle that offers all of those elements. The LaCrosse is a graceful luxury sedan that knows how to drive with confidence and sophistication.
Type: Luxury sedan
MSRP: $29,570
Dimensions: 198″ L x 74″ W x 58″ H
Cargo volume 15 ft³
Horsepower: 310 hp
MPG: 25 city / 35 highway
Buick Cascada
The Buick Cascada has a namesake that roughly translates to waterfall in Spanish. Being the only convertible in the lineup, this is a truly fitting name for this sleek and streamlined vehicle.
Type Luxury convertible
MSRP: $33,070
Dimensions: 185″ L x 72″ W x 57″ H
Cargo volume: 9.8 ft³, 13.4 ft³ with seat area
Horsepower: 200 hp
MPG: 21 city / 29 highway
Buick Regal Sportback
The Buick Regal Sportback is one of the more interesting designs as it appears to be a sedan, but once you get into the cabin, you will notice it offers hatchback utility. The name Regal Sportback is a testament to its athletic and luxury design.
Type: Luxury hatchback with sedan styling
MSRP: $25,070
Dimensions: 193″ L x 73″ W x 57″ H
Cargo volume: 31.5 ft³, 60.7 ft³ with seat area
Horsepower: 250 to 310 hp
MPG: 22 city / 32 highway
Buick Regal TourX
As another regal vehicle, the Buick Regal TourX offers drivers a sense of nobility as the drive.
Type: Luxury wagon
MSRP: $29,070
Dimensions: 196″ L x 73″ W x 58″ H
Cargo volume: 32.7 ft³, 73.5 ft³ with seat area
Horsepower: 250 hp
MPG: 21 city / 29 highway
Buick Encore
The Buick Encore is ideal if you desire something that is not quite a sedan and not quite an SUV. It seamless blends the smooth handling of a much smaller vehicle with the versatile efficiency of a much larger one.
Type: Subcompact Crossover luxury SUV
MSRP: $23,200
Dimensions: 168″ L x 70″ W x 65″ H
Cargo volume: 18.8 ft³, 48.4 ft³ with seat area
Horsepower: 138 to 153 hp
MPG: 27 city / 33 highway
Towing: 1,016 to 1,018 lbs.
Buick Envision
In the Buick Envision, you can truly see a bright future of pleasant family vacations, spontaneous camping trips, and making the best impression possible on those you meet.
Type: Mid-size luxury SUV
MSRP: $31,995
Dimensions: 184″ L x 72″ W x 67″ H
Cargo volume: 26.9 ft³, 57.3 ft³ with seat area
Horsepower: 197 to 252 hp
MPG: 22 city / 29 highway
Towing: 1,164 to 1,318 lbs.
Buick Enclave
If size is what you require the Buick Enclave offers a luxurious amount of space for both passengers and cargo, while still maintaining an elegant and unobtrusive design.
Type: Mid-size Luxury SUV
MSRP: $40,000
Dimensions: 204″ L x 79″ W x 70″ H
Cargo volume: 23.6 ft³, 97.6 ft³ with seat area
Horsepower: 310 hp
MPG: 18 city / 26 highway
Towing capacity: 1,500 lbs.
The Avenir Line
The Buick Regal, Buick Lacrosse, and Buick Enclave all come in an Avenir model that masterfully blends style and efficiency while maintaining the highest form of luxury. While you can basically consider this as the highest trim level, it presents drivers with so much that it deserves a signature namesake of its own. Avenir is French for future, and there is no better way to describe vehicles with such innovation and style. These models are designed with exclusive Avenir only detailing such as an intricate grille design, soft-touch surfaces, premium seating materials, exclusive alloy wheels with nickel accents, and warm wood tones and. Avenir also includes inspired and purposeful amenities like built-in navigation, a wireless charging station, a premium sound system from Bose, and a power moonroof that opens up the whole cabin. Basically, if you want the best Buick has to offer, the Avenir line is choice that will forever leave you satisfied.
The Buick Dealership That Serves
Buick's mission to provide drivers with an affordable luxury automotive experience is something we at Frank Kent Country General Motors and Buick dealership support wholeheartedly. Everyone deserves to feel the joy of getting behind the wheel of a vehicle that is refined enough to make you feel like royalty. Considering the importance of investing in a vehicle, you deserve the right to be treated and served with the greatest respect and consideration while you are going through the car buying process, and that is what we are always happy to offer our loyal community of drivers.