8 Reasons To Consider Chevy Trucks For Your Next Automotive Purchase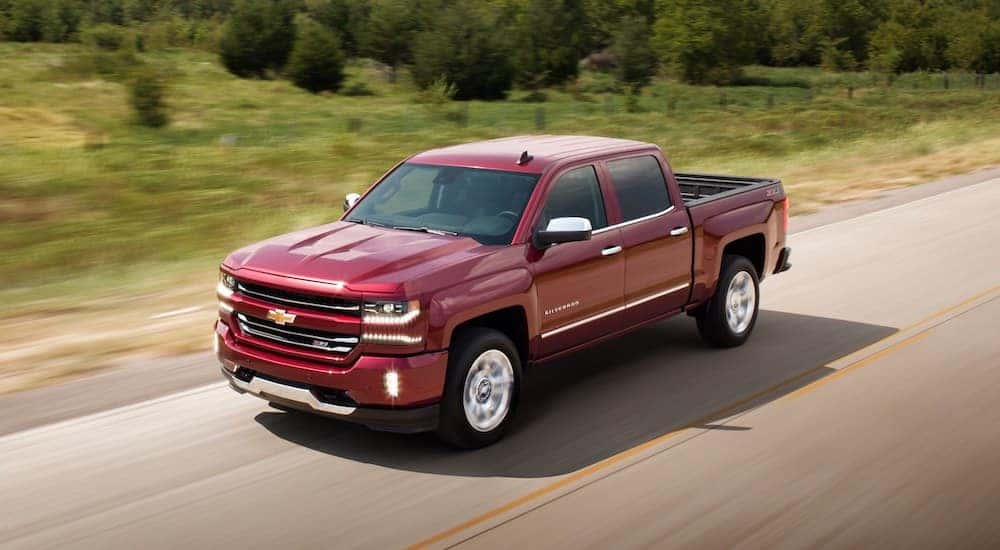 Whether it's for work or for play, buying a Chevy truck is always a great idea. The capability of these vehicles is above and beyond what you would ever need for work or for recreation. With massive tow and haul capability, high-performance powertrain configurations, great styling and dependability, Chevy trucks work hard and play hard. Here are eight important reasons why you should make a Chevy truck your next automotive purchase.
Chevy Trucks are Known for Their Durability
Chevy trucks are built to last. Ask anyone who has ever driven one. If their first truck was a Chevy, their last one almost certainly will be too. Chevy trucks are built with only the very best parts and designed by truck people for truck people. In fact, it's not uncommon for drivers to get well over 200,000 miles out of their Chevy trucks. Chevy knows what drivers need and want, and they deliver a truck that will last a very long time.
It is Hard to Find a More Dependable Brand
Chevy is renowned for the dependability of their vehicles. They have a reputation for manufacturing trucks that work hard, play hard, and last even longer. These trucks can take a beating and keep on going the extra miles. When you choose Chevy for your next truck purchase you are choosing a vehicle that will give you many years of hard-working service.
Chevy Trucks Are Capable, Strong, and High-Performing
Chevy trucks are built to be tough, hard-performance, hard-working vehicles. Whether you need a truck for work or for play, Chevy has a truck that's perfect for you. Towing and hauling is Chevy's specialty, with great beds and hitches to haul anything from heavy work equipment to recreational vehicles like boats, bikes, or jet skis. Performance should not be left out either when it comes to talking about Chevy trucks. Amazing powertrain configurations are available with Chevy motors and transmissions that give drivers the power they need to be able to tow and haul effectively and efficiently.
Chevrolet is a Trusted Brand
Everyone knows the name Chevrolet. As one of the most trusted names in the automotive industry, Chevy is backed by a core value system that values its customers and makes it a priority to continue designing and manufacturing vehicles that are of great quality and value. Quality craftsmanship, high-tech manufacturing, and world-class design all add up to a truck that will be king of the road.
Chevrolet's Customer Loyalty
As such a trusted brand, customer loyalty is huge with Chevy and it's no wonder why. With their commitment to excellent customer service, as well as their commitment to manufacturing high-quality, great value trucks it makes sense that Chevy customers would stay loyal to their brand.
An Impressive Selection of Chevy Trucks is Available
Chevy offers drivers the best selection when it comes to trucks. Whether you are looking for light-weight, heavy-duty, or a mid-size truck, Chevy has something for everyone and every job.
It's Not Just About Performance, Chevy Trucks Don't Skimp On Style
Sure you want your truck to be super capable, perform well, and be dependable over many years, but you also want it to look good. Chevy has the style department covered. With a large selection of bold or understated exterior colors and multiple trim levels, you can really make your Chevy truck look however you like. Whether you want your truck to have an off-road edge, or keep a sleek work or recreations look, there are trims levels as well as aftermarket add-ons to help you exactly customize your truck the way you want it. The exteriors of Chevy trucks are wonderfully crafted and styled as well. With optional leather seating, creative stitching, comfortable seating, and detailed styling on the dashboard and control panel areas, Chevy pulls out all the stops when it comes to the design of their vehicles.
You Can Customize Your Chevy Truck With Parts and Accessories
Chevy makes some of the very best and most useful aftermarket parts and accessories around. Drivers who are looking to haul a lot of cargo in their truck beds may be interested in Tonneau covers and bed liners. These accessories add beauty to your truck, but also protect your truck bed and your cargo from the elements, dents, and dings. An endless combination of bars, rails, racks, and hitches are available for those looking to tow anything from heavy work equipment to recreational vehicles or gear for camping, hiking, biking, kayaking, and so much more. And let's not forget style. Drivers can get accents and upgraded parts and accessories for headlamps, exhaust pipes, roof racks, fenders, bumpers, and side mirrors, just to name a few. When you are looking for aftermarket parts and accessories just don't forget to be sure a certified tech, like the ones at Frank Kent Country, handles the installation and uses parts that are specific to your vehicle and approved by Chevy.
Choose Chevy for Your Next Truck Purchase
When you are considering buying a truck, think Chevy. All of these reasons and more are assurance that your vehicle purchase will be a smart investment that will work hard and will last you a long time. Your Chevy truck will get you there and back, and get any job done, for a long time coming.
Need another reason to choose Chevy? A dependable Chevy dealership like Frank Kent Country understands the brand's values and is sure to put the customer first. When visiting a dealership like Frank Kent Country, you can expect a warm welcome, helpful sales staff, and excellent customer service that continues even after your purchase is complete. To make your car-buying experience even more seamless and straightforward, our finance team is prepared to help you secure whatever kind of financing you may need and stay within your goal budget. So, when you're ready to purchase a vehicle, visit Frank Kent Country today to check out our incredible selection of Chevy trucks!