10 Great Reasons To Buy A Chevy Truck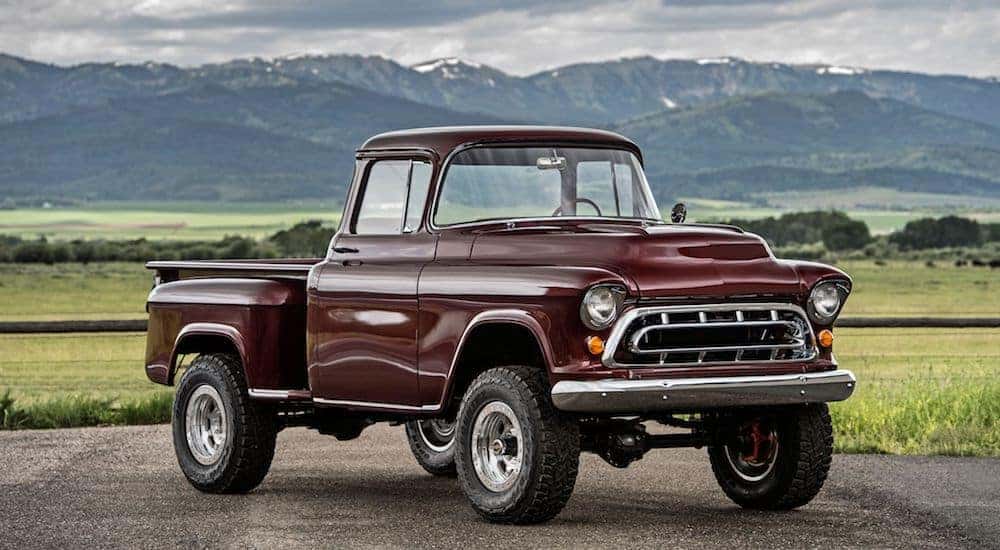 Created in 1911, the Chevrolet company instantly became a household name in the automotive industry. Synonymous with great performance, amazing flexibility for cargo and passengers alike, advanced technology, and great styling, Chevrolet is made for the driver who appreciates great design and craftsmanship in their vehicle. These 10 reasons are great examples of why you should stop into your local Chevy Dealership and check out the latest in truck performance and engineering.
1) Best-in-Class
Chevy has won many awards over the years, across many of the major automotive categories. A few recent awards focused on tech advancements, like the Chevy MyLink that connects smartphones seamlessly to your Chevy and lets you play music, navigate to your destinations, and make calls or send voice texts safely. Other technology lets you access all of your info through a user-friendly touchscreen interface that is currently standard on most Chevys. In 2013, Chevy won the most awards from J.D. Power awards for quality than any other brand on the market.
2) Reputation
Chevrolet has been on the automotive market since the beginning. Over the years they have continued to advance in every area and continue to produce some of the favorite vehicles among true truck aficionados. Chevy trucks are tough, high-performing, and long-lasting. Your Chevy dealership should be able to show you an inventory that is sure to impress.
3) Safety
In the safety department, Chevrolet has chalked up more safety awards than any other car company. Many of their vehicles have been awarded the highest possible safety rating from the NHTSA in a single model year. Available safety features include forward collision alert, lane departure warnings, advanced airbag systems, rear vision cameras and cross-traffic alerts, as well as blind-zone alerts. Between active and passive safety technology, Chevrolet has you covered.
4) More for Your Money
Chevrolet has always prided itself on being a company for the working class. Always keeping value MSRP standards year after year, Chevy still manages to pack advanced technology features, active and passive safety advancements, great powertrain options, and hot styling into a package that remains priced well. In today's economy, this is a serious plus. Your local Chevy dealership can help you find a truck that both fits your needs and keeps you within your budget.
5) Flexibility
Whether you are buying a Chevy for work or for play, your Chevy dealership can show you endless combinations and configurations, so you get exactly the truck you need. From different models and trims, cargo options, powertrain combinations, exterior and interior styling, there's no telling how many combinations you can put together with the help of your Chevy dealership. Aftermarket parts and accessories open up the door for even more opportunities for customizing and upgrading your Chevy.
6) Tradition
Once you buy a Chevy, you become part of a great American tradition. This tradition is passed down from driver to driver with the knowledge of Chevy's best qualities. It's a company that has been around for years and has consistently made high-quality, tough, smart, and safe vehicles that people who love to drive enjoy.
7) Technology
Chevrolet's technology improves every year. Innovation is the name of Chevrolet's game, and they bring the best concepts, research, design, and active technology to the automotive field. With the best in safety technology, navigation, communication, and user interfaces, Chevrolet has everything a modern driver needs.
8) Performance
The powertrain combinations available on Chevrolets make these vehicles a favorite for those who love to drive. Engine and transmissions work together to create powerful, efficient, and dependable vehicles that can accomplish any task you throw at them, from weekend recreation to workhorse duties, Chevrolet's performance has you well covered.
9) Selection
With endless trims, standard and available options, and aftermarket parts and accessories made just for your specific Chevy truck; your Chevy dealership has more than you could imagine in the way of selection. You Chevy dealership can show you endless combinations for Chevy trucks that are sure to fit exactly what you need.
10) Green Advancements
Chevrolet appreciates how much of an impact the automotive industry has on our planet. Because Chevy wants to be as green as possible, both during production, and after once the vehicles are on the road, Chevy has developed green solutions that not only help lessen our footprint on the planet but help our vehicles to run better and more efficiently. Chevrolet is a groundbreaker in green tech; this company did create the first completely electric car after all.
Your Local Chevy Dealership
If you weren't already convinced, by now, you should be fairly confident in your decision to buy a Chevy for your next vehicle. Once you're in that spot, head over to your local Chevy dealership and check out their inventory of great trucks. From lightweight to heavy duty haulers, Chevrolet has a truck that was made with you and your tasks in mind.